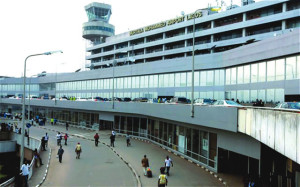 Men of the Nigerian Air Force and National Drug Law Enforcement Agency (NDLEA) have engaged one another in a gun duel at Murtala Muhammed Airport Lagos on Wednesday, a development which resulted into one NDLEA officer being injured.
According to eyewitnesses, the clash started at 4:52 pm when the Federal Airports Authority of Nigeria (FAAN) task force denied an NDLEA officer access to the premises because the latter failed to identify himself properly after the office hour.
FAAN has restricted movement into the facility to 12 hours (7am-7pm) from the initial 24 hours period in order to curb illegal activities and eliminate touting at the Hajj and Cargo Terminal area of the airport.
Anyone that must access through the gate at the terminal after the hours of 7:00 pm must be properly identified and must also be a staff of the airport or any of the security agents, sources said.
A staff of NDLEA who showed up at 7 pm was refused entry but after an intervention by a senior aviation staff, he was allowed into the terminal, the sources said.
Not long after, another NDLEA officer forcefully gained entrance into the premises, which led to a showdown among members of the two armed forces.
Officials of the NDLEA allegedly started throwing stones at officers of the Nigerian Airforce on duty, an eyewitness said.
In retaliation, the airmen also invited their mates to engage the anti-drug agents, and the hell was let loose. The fight which lasted till 7 pm, scared off passersby around the area.
This was not the first time clash between men of security agencies occur in Lagos.
In 2011, men of the Nigerian Army soldiers clashed with policemen who were trying to stop them from using the BRT lane at Obanikoro, Lagos. In 2013, the clash was between naval officers and men of the Lagos State Police Command. Two policemen allegedly sustained injuries in the fight and police patrol vehicles including Armoured Personnel Carriers, APC, were destroyed. Last month, men of the Nigerian Navy engaged in a street fight at Ojuelegba with operatives of the Special Anti-Robbery Squad (SARS), Lagos.
The naval officers reportedly abducted Sergeant Vicky, a policewoman attached to the Traffic Section of the Lagos State Police Command, because she hit the body of their car at Mushin in Lagos.