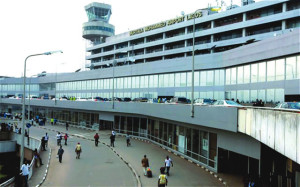 The Federal Airports Authority of Nigeria (FAAN) has said that a total of 9.2 million passengers passed through Nigerian airports in 140,552 aircraft movements between January and September, 2017.
A report from FAAN in Abuja on Thursday revealed that 6.38 million domestic and 2.8 international passengers passed through the airports during the period.
According to FAAN, 110,220 domestic and 30,332 international flights were operated across the country's 22 airports during the period under review.
It further revealed that 4.6 million passengers arrived in the country in 70,680 flights, while 4.5 million passengers departed in 69,872 flights.
The total cargo movement during the period according to the report stood at 128.37 million tons per kilogram.
The report indicated that 86.11 million tons per kilogram arrived in the country through the airports, while 42.26 million tons departed during the period.
The Murtala Muhammed Airports (Domestic and International Wing) recorded the highest passengers and aircraft movement during the period under review, recording 4.5 million passengers, with 2.4 million passengers on domestic routes and 2.03 million on the international routes.