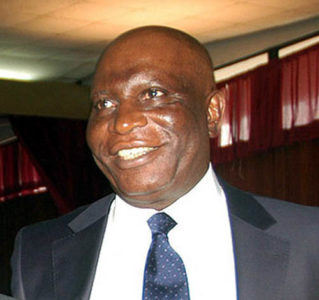 Nigeria's new High Commissioner to the United Kingdom, Justice George Oguntade has urged local manufacturers and farmers in the country to intensify efforts in their production so as to meet up with global market demands.
According to the envoy, one of his major focuses will be to facilitate the exportation of more made-in-Nigeria goods and agricultural produce from the country to the UK in order to ensure Nigeria's economic revival.
A statement quoted Oguntade to have said this at a reception organised in his honour in Lagos by the Cosmopolitan Women Club.
He noted that with increased opportunity to export their farm produce, farmers in the country would have better standard of living.
Oguntade said, "I will harness this opportunity to strengthen and promote ties between Nigeria and the UK to boost exportation of Nigeria farm produce and our locally made goods to achieve its huge economic potential.
"The major thing I will concentrate on is to ensure that as many goods as possible are exported to Britain so that we may be able to reform our economy, especially in this hard time. Since Nigeria producers and exporters lack the capacity and skills to enter the big global market, my appointment will assist and prepare local producers to take advantages of the market to stimulate economic growth, promote high-level dialogue on trade and investment-related issues and encourage economic integration."
Earlier, the Deputy British High Commissioner to Nigeria, Laura Beaufils, had classified Nigeria as the most important nation in Africa due to her large market.
She said, "Nigeria, in particular, will remain an attraction to the West and the emerging strong economics as they seek to take advantage of the large market that exists in the country and the rest of Africa.