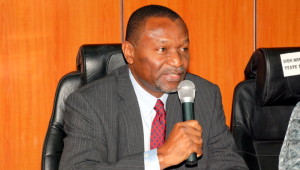 The Federal Government has commenced the process towards the 2018 budget, with the Minister of Budget and National Planning, Udoma Udoma, continuing his consultations on the draft 2018–2020 Medium Term Expenditure Framework, MTEF, with the leadership and heads of relevant committees of the National Assembly.
The minister's spokesperson, Akpandem James, said the meeting was is in keeping with the determination of the Federal Government to carry along critical interest groups, particularly National Assembly, in matters of governance.
The focus of the consultative meeting would be the scenarios of the MTEF for the next three years, James said.
The MTEF outlines Federal Government's fiscal policies and macroeconomic projections for 2018–2020.
It also provides broad framework for annual budget and fiscal management in line with the Fiscal Responsibility Act, FRA, 2007.
He said the consultations on the draft MTEF began on Thursday last week when the Minister briefed state governors at the National Economic Council (NEC), meeting on the key assumptions and macro-economic framework for next year's budget.
During the meeting, the said the basis for the projections for oil production levels, oil price benchmark, exchange rate, inflation rate, gross domestic product, GDP, growth rate, nominal GDP and nominal consumption rate, among others, were explained.
Similar consultations are to be held subsequently with civil society organizations, CSOs, private sector operators, PSO, development partners and the media.
Udoma was accompanied by the Minister of State, Zainab Ahmed and Director General of the Budget Office, Ben Akabueze while the National Assembly team was led by the Senate leader, Ahmed Lawan.
Other members of the National Assembly at the session were the House of Representatives Majority leader, Femi Gbajabiamila, Chairmen of both the Senate and House Committees on Finance; and Deputy Chairman Senate Committee on Appropriation.