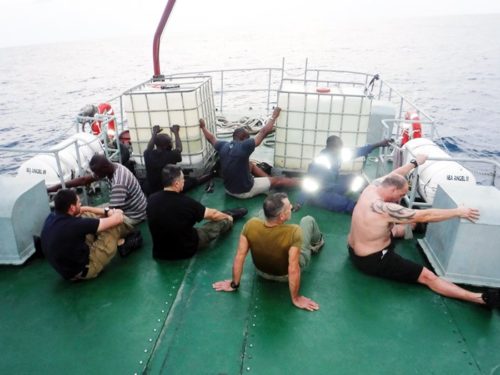 The Nigerian Navy may have unwittingly sparked a diplomatic row with the United States of America with the arrest this week of nine people including one American for possession of firearms.
The arrested suspects were said to be part of a maritime security team supposedly providing anti-piracy services in the Gulf of Guinea region. 
A spokesperson for the maritime security firm, confirmed as U.S.-based Trident Group, said the team was located well into international waters when their vessel was boarded and the weapons found were all licensed and permitted. 
The nine suspects were arrested during a joint operation tagged 'Junction Rain', a combined maritime law enforcement operation involving the U.S. Coast Guard and the Nigerian Navy in support of the African Maritime Law Enforcement Partnership (AMLEP). 
SHIPS & PORTS reported this week that the suspects were arrested last week on board a vessel named the Sea Angels 3. They comprise of three Greek nationals, one American, and five Nigerians.
Addressing reporters on their return from the high seas on Wednesday, the Officer in Tactical Command of "Junction Rain", Navy Commodore Dickson Olisemenogor, said the suspect's vessel was boarded after the captain apparently lied about how many people were on board. Upon boarding the vessel, the boarding team reportedly discovered that there were more people on board and a subsequent search of the vessel turned up weapons, including four semi-automatic rifles, as well as ammunition and other military-style gear.
Olisemenogor also told journalists that the Sea Angels 3's tracking and communication equipment had been turned off and the vessel was painted in navy colors, adding to his team's suspicions about the vessel.
The arrested American, named Zanski Michael-Anderson, is said to be an employee of the Virginia-based Trident Group, which specializes in anti-piracy security.
An official of Trident, who does not want to be named, confirmed the incident even as he denied that Sea Angels 3 was operating in Nigeria's territorial waters. He said the matter has been taken up with the United States Embassy in Nigeria for prompt release of the suspects.