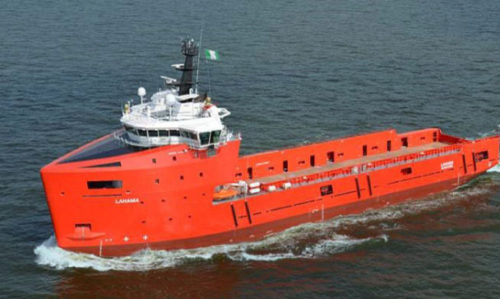 The Nigerian Shipowners Association (NISA) has sacked its two factional presidents, Niyi Labinjo and Aminu Umar, and appointed a three-man steering committee to pilot its affairs for the next six months.
The steering committee, made up of Paul Jegede, Tunji Brown and Capt.Taiwo Akinpelumi, are tasked with the responsibility of stabilising the association and conducting a general election in the first quarter of 2020.
The Indigenous Shipowners Association (ISAN), which later changed its name to Nigerian Shipowners Association (NISA), has been engulfed in internal crisis after its maiden election held on October 24, 2014.
The crisis led to the splitting of the association into two groups headed by Niyi Labinjo and Aminu Umar respectively. Some NISA members also pulled out to form a new association named Shipowners Association of Nigeria (SOAN).
Speaking at a press briefing in Lagos, on Tuesday, the new NISA steering committee said the members of the association, an emergency meeting held on September 5, 2019, resolved to reconcile and work together.
According to the committee, all the executive members of the association elected in November 2014 including the two factional presidents, Labinjo and Aminu, cease to represent the association.
"It was unanimously agreed by members present that the executive committee should surrender the management of the association to the newly appointed steering committee. The steering committee has the sole responsibility to represent the association in all official matters until new executive committee members are elected.
"NISA will continue to make progress on its aims and objectives, such as to earn industry confidence, create jobs and ensure that NISA takes its rightful position as a major driver and critical stakeholder of the maritime sector and contributor to the national economy," the steering committee members said in a joint statement.
Speaking while fielding questions from journalists, a member of the steering committee and Chairman Japaul Group, Paul Jegede, said NISA members have suffered neglect as a result of the division within the association, adding that NISA's decision to reunite will help members speak with one voice.
He said, "We have actually lost a lot because if we had been together, speaking with one voice, we would have been heard and we would have gotten what we wanted. For instance, the Cabotage Vessel Financing Fund (CVFF) has not been managed very well by the government although it was contributed by the shipowners but because we are not together, we are missing the opportunity.
"Now, we have seen all these and we are now coming together and we will be able to advise government better and we will find out that within the next six months, things will change."
Jegede said NISA is also looking at working with the rival Shipowners Association of Nigeria (SOAN) as both groups have similar objectives and challenges.