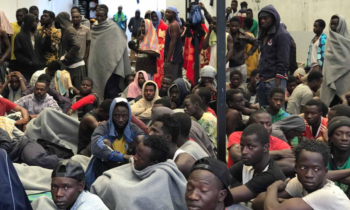 By Jite Eriabie 
Despite the "unfavourable situation" in Libya, the Chargé d'affaires of Nigeria in Libya, Illiya Fachano, on Thursday said some Nigerians in Libya have refused to be repatriated.
According to Fachano, "Not all of them want to come back home. Before you can assist them, they will have to sign a consent form, after which emergency travel certificates are issued.
"I want the public to know that we have some Nigerians who are not willing to return in spite of the unfavourable situations; and the fact is that we can't get them on the flight without their consent.
"Migration is natural and has always happened; but it becomes an issue when there are people migrating illegally, meaning the migrants arrive without proper documentations and conceal their identity.
"What we do is to identify the Nigerians in the camps, register them, then issue them emergency travel certificates. Those who happen to be sick get medical treatments before being confirmed to fly.
"The International Organisation for Migration has rallied the support of the European nations and particularly, Italy, for the Libyan Coast Guards who are particularly ordered to prevent boats that smuggle migrants and refugees from Libya to Europe.
"Because the coast guards at the Mediterranean Sea are professionally trained and well funded by the EU, they have captured many people who are trying to illegally cross to Europe and returned them to Libya.
"Unfortunately, we have noticed that in every batch of people brought back to Libya from Europe or the Mediterranean Sea, a larger number of the migrants come from Nigeria because of our population, causing us to have much more Nigerians to be repatriated."
Fachano added that there were challenges in extracting Nigerians from Libya which required the assistance of the government.
"I can confirm that the stories of Africans being bought as slaves in general is true. However, we discovered other people who were bought and sold by their fellow Nigerians living in Europe," he said.
The chargé d'affaires said it was worrisome that with all the efforts of the government to rescue stranded migrants, more Nigerians are still trying to go to these places, with the hope that they will be lucky in achieving their European dream.
Copyright Ships & Ports Ltd. Permission to use quotations from this article is granted subject to appropriate credit given to www.shipsandports.com.ng as the source.