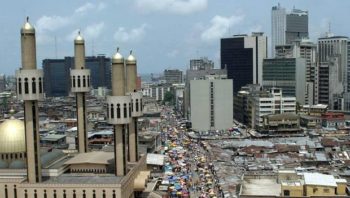 The National Bureau of Statistics (NBS) on Monday said Nigeria's economic growth dipped to 1.50 percent year on year between April and June, extending a slowdown into a second quarter as the oil sector contracted.
Largely dependent on its rich crude reserves, Nigeria's economy began climbing out of its first recession in 25 years in 2016 as President Muhammadu Buhari's government implemented the early stages of a turnaround plan.
But the pace of recovery has been relatively slow, and since the beginning of this year has again started to dip.
The oil sector shrank 3.95 percent in the second quarter, NBS said. Oil production dipped to 1.84 million barrels per day (mpbd) from 2 mpbd in the first quarter.
"For the first time since the exit from recession, growth was driven by the non-oil sector which grew by 2.05 percent," the bureau said.
That was the strongest growth in non-oil GDP since the final quarter of 2015.
Leading the expansion were the transportation, construction and electricity sectors, while agriculture growth dipped to 1.3 percent from 3 percent.
Buhari's record on managing the economy is likely to be closely scrutinised if he goes ahead with plans to seek a second term in office next year.
Agency Report