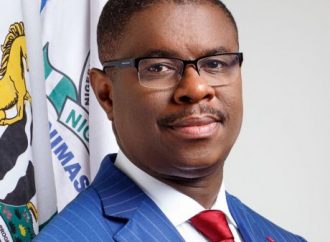 The Director-General, Nigerian Maritime Administration and Safety Agency (NIMASA) Dakuku Peterside, has appealed to the Nigerian judicial system to ensure that dispute resolution on maritime cases are treated with urgency, lamenting that the poor dispute resolution mechanism on maritime cases is scaring away investors from Nigeria.
The DG stated this in Lagos on Monday at the 8th Strategic Admiralty Law Seminar for Judges held in partnership with the Nigerian Institute of Advanced Legal Studies (NIALS).
According to him, the maritime sector has capacity to generate as much as one million jobs, but no investor is willing to invest because of the slow nature of the justice system.
Peterside charged the judges to treat maritime cases with timelines, noting that judges have a role to play in catalysing Nigeria's economy.
"Like every other business or investment, nobody would be ready to invest in a place where the dispute resolution mechanism is not effective, each time we go out and talk to people to invest in Nigeria, they will tell you that dispute would always arise because of business transaction, but if they are not sure that justice will be done in a timely manner then they would not come to our jurisdiction to invest.
"I want to appeal to my lords, and it is an appeal from the depth of my heart, shipping is a unique area, it is capital intensive. If it takes two years to resolve an issue on ownership of a vessel, after two years, you won't have that vessel again, by so doing, somebody must have lost a 100 milion dollars, tomorrow you ask him to come to Nigeria he will not come," he said.
The NIMASA boss assured that the agency is working assiduously with the National Assembly to ensure that the Anti -Piracy bill is passed before the end of 8th Assembly in May 2019.
Peterside stated that the anti-piracy bill when passed into law would provide a robust and detailed framework to criminalise and punish piracy and other unlawful acts in the Nigerian maritime domain as well as give further expression to the relevant provisions of the international maritime conventions on maritime security to which Nigeria is a party.
He disclosed that NIMASA has ratified 40 Conventions of the International Maritime Organization (IMO) and the International Labour Organization (ILO) on Maritime safety, maritime labor and maritime environment management while 19 of the conventions has been domesticated.
"We are already working with the Federal Ministry of Transportation under the auspices of an Inter-Ministerial Committee to ratify an additional six IMO conventions before the end of 2019 to ensure that Nigeria as an IMO member state fulfills its treaty obligation," he said. 
Director General of Nigerian Institute of Advanced Legal Studies (NIALS) represented by Prof. Emmanuel Okon commended NIMASA for having done enough in terms of implementation of its mandates.
According to him, most of the challenges in the maritime sector have to do with enforcement and this lies solely with the judicial system of Nigeria.
He said the seminar would further equip the judges and make them versatile with maritime and labour issues.