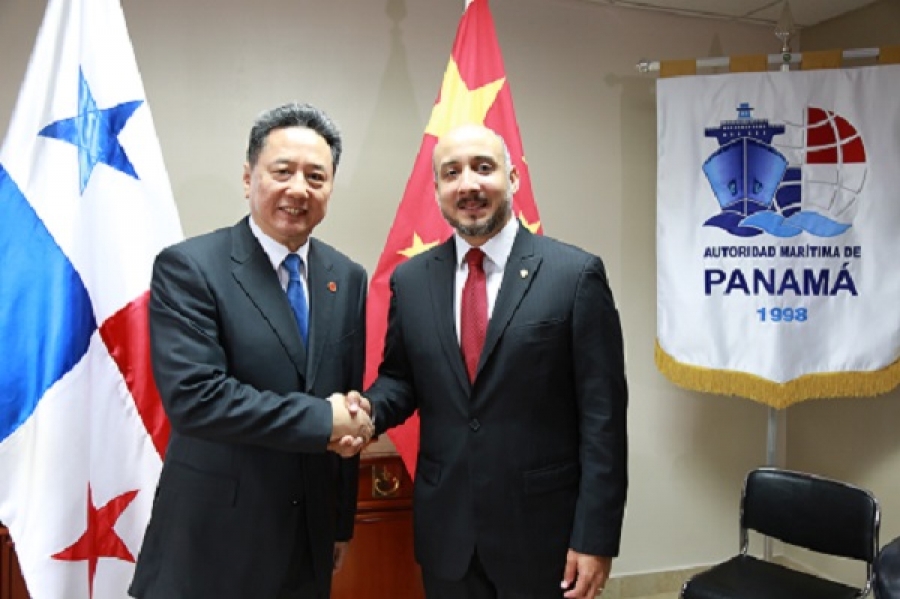 Panama's Minister of Maritime Affairs Jorge Barakat held a meeting with China's Minister of Transport Li Xiaopeng, who visited the headquarters of the Panama Maritime Authority (AMP). Li was accompanied by a delegation of the Chinese government and Chinese companies working in Panama's maritime sector.
Both ministers expressed their interest in reaching a memorandum of understanding (MoU) on maritime matters for which they started negotiations immediately. The MoU will implement projects and activities that contribute to strengthening relations between the two countries.
"The mutual contribution in areas such as maritime environmental protection, certification and training of seafarers, recognition of documentation of the ships, the port state, among others, has grown with the signature of the treaty signed by Panama and China in November 2017 on maritime transport that entered into force May 17, as the agreement promotes maritime and port development of Panama and China, strengthens the Ship Registry and supports the Chinese Maritime Authority in the maritime safety issues of Panama-flagged vessels sailing in its waters," said Barakat.
Since July 1, Panama Ship Registry receives "the Most Favoured Nation" treatment and the Panama-flagged vessels will enjoy the advantages and lower port costs applicable to other states which have similar agreements with China. The agreement includes transfer of knowledge and technical control of ships' documentation and crews on board Panamanian vessels.
"Likewise, we see cooperation between both administrations not only in maritime matters, but also in human resources and education," said Li who expressed the intention of his government to grant scholarships to Panamanian students to study at the Maritime University of Dalian.
"Chinese investments are present in the maritime sector with the construction of the container terminal Panama Colon Container Port (PCCP), on the Atlantic side, on Isla Margarita, Colón, which is 30% complete, and when the project concludes, it will increase Panamanian ports capacity by 2.5m teu" said Barakat.
Barakat encouraged the Chinese minister to continue promoting Panama so that Chinese companies can bet on this country for the development of port projects that will not only benefit Panama but also China to market their exports. 
Copyright Ships & Ports Ltd. Permission to use quotations from this article is granted subject to appropriate credit given to www.shipsandports.com.ng as the source.