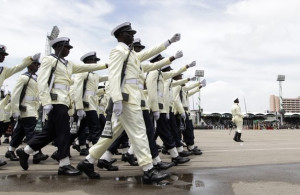 The Nigerian Navy (NN) on Thursday alerted members of the public on the existence of illegal Merchant Navy Training Schools. A statement by the Naval Acting Director of Information, Navy Capt. Suleman Dahun, said the illegal facilities had been offering fake training in merchant navy duties to unsuspecting Nigerians.
"For the avoidance of doubt and the benefit of unsuspecting members of the public,the Federal Government of Nigeria's official Gazettee No. 58 of Aug. 28, 2013 titled Dissolution and Proscription of Certain Associations Order, has dissolved and proscribed the following associations," Dahun said.
These associations include: Nigerian Maritime Security Agency (NMSA), Nigerian Merchant Navy Corp (NMNC) and Nigerian Merchant Navy Petroleum Security and Safety Corp. (NMNPSSC).
According to Dahun, the gazette also stipulates that these proscribed associations shall not be formed into any new associations by whatever name or title.
"Accordingly, the Police and Armed Forces personnel have been authorised to arrest any person found to be claiming membership of these proscribed associations and seal any facility used by these proscribed associations.
"Members of the public, especially able-bodied young men and women, are to please note that only 3 organisations offer certified training leading to a career in the Navy or the Merchant Navy," he said.
These organisations include: Nigerian Defence Academy (NDA), Kaduna, Nigerian Navy (NN) and Maritime Academy of Nigeria (MAN), Oron.
He, therefore, advised members of the public wishing to pursue a career in the Navy or the Merchant Navy to visit the websites of the Nigerian Defence Academy (NDA) and Nigerian Navy or the Maritime Academy of Nigeria for career opportunities.