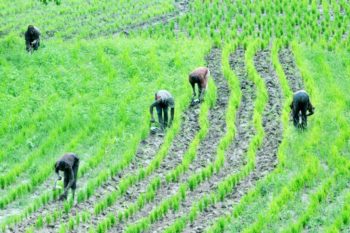 Farmers in Cross River State who are beneficiaries of the Central Bank of Nigeria (CBN) Anchor Borrowers Programme have alleged fraud in the programme.
The programme is a Federal Government initiative to boost production for rice farmers in the country.
According to them, they signed for a loan of N250, 000 at the Bank of Agriculture, but were given N95, 000.
They claimed, according to the terms of the agreement, they are to be given N250, 000 as well as rice, fertiliser and insecticides among others.
One of the farmers, who gave his name as Adoga said: "After being told that the fertiliser was given at a subsidised rate, officials of the bank have now said that the N95,000 was the balance after deduction for fertiliser which is given at N7,500 against the market value of N6,000 and the other items.
"They made us signed for the sum of N250, 000 but our accounts were credited with just N95, 000. We want the Federal Government to explain this disparity to us.
"We don't know why the Federal Government handed over the program to the state to coordinate. We should have been made to deal directly with the Presidential Committee handling the programme. Please, this issue should be addressed urgently."
But the Commissioner for Agriculture in the state, Prof Anthony Eneji, said the farmers misunderstood the terms of the agreement.
He explained: "The whole scheme is calculated based on per hectare basis. Loans are given to farmers based on per hectare basis. For each hectare, what was agreed with the farmers in a stakeholders meeting was N235,000 and not N250,000. That is the sum of the loan. Not all of that was to be given to them in cash. Mostly it is in the form of the improved rice treated seed, the fertilisers, fertilisers and then other agrochemicals. We did this because if the money is given to them cash, they would not buy all those things.
"So the money is given when they want to floor their land to till it and then when it is time to harvest, then the balance cash is given so they can harvest. So it is not that they are supposed to have everything in cash. That is how the scheme operates.
"What is given to them now is part of the N235,000. Like they are given six bags of fertilizers each, they know how much a bag of fertilizer is selling. Then there are chemicals, and improved rice seeds, all the costs are deducted from there and the balance is given to them to floor their land and also during the harvest. So they are coming with a wrong understanding."