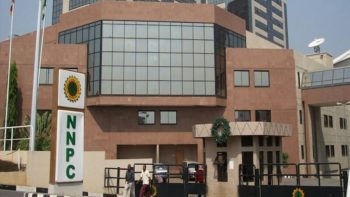 The Nigeria Governors Forum (NGF), says the Nigerian National Petroleum Corporation (NNPC), has been shortchanging Nigerians in its remittances to the Federation Account for over five years.
The Forum revealed that at the time of high global oil prices that averaged $110 per barrel, the state oil firm remittances to the Federation Account did not reflect the high revenue earnings from oil exports.
NGF Chairman and Governor of Zamfara State, Abdulaziz Yari, told State House correspondents on Friday that the issue was raised during a meeting with President Muhammadu Buhari at the Presidential Villa, Abuja.
"The meeting is on the decision of the National Economic Council (NEC), that the seven-man committee was established to engage the NNPC and discuss a way forward, so that we can resolve outstanding issues, most especially on remittances to the Federation Account," he said.
Yari said the committee was in the State House to brief the President on the outcome of its meeting with the NNPC on Wednesday to reconcile the records.
He said one of the things the committee discussed with the President was how NNPC was paying the Joint Venture cash call in four batches.
"We have seen that what is being remitted to the Federation Account for the entire people of Nigeria is lower and what is being paid for the Cash Call Joint Venture is higher than what is going to the Federation Account," Yari said.
The governor said the NGF and the NEC were concerned about this and had to ask the committee to engage with the NNPC to discuss a way forward.
"So the explanation of the NNPC on why the Federation Account is always low is because they are making dual payments, consisting the existing and the arrears of the cash call," he said.
He said the committee had during the meeting with the NNPC fine-tune how best to go about it and get partners to understand where they are.
The NGF chair said reconciliation of the records was important especially now that the country is slightly out of recession, and with oil prices picking up again.