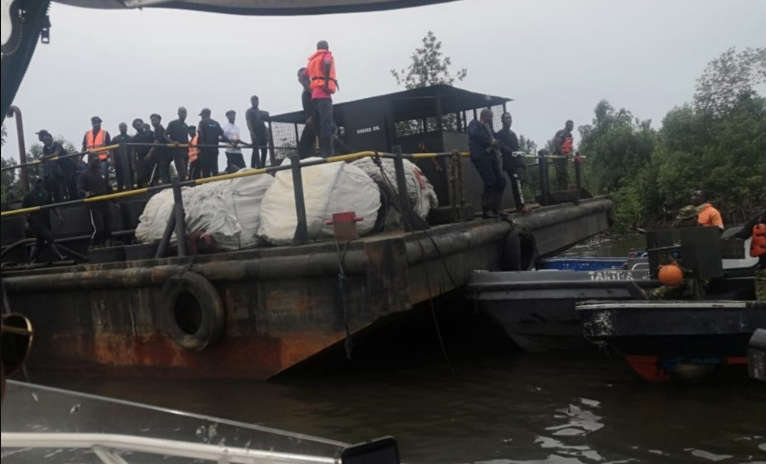 The Nigerian National Petroleum Company (NNPC) Limited has intercepted a barge illegally carrying 700 barrels of crude oil in Opete, Udu Local Government Area of Delta State.
In a statement released weekend, NNPC also reportedly arrested six suspected crude oil thieves during the operation. The arrest was made by NNPC's a private security contractor, Tantita Security Services.
Speaking with journalists during an inspection of the site, a Director of Tantita Security Services, Warredi Enisuoh, said the operation was conducted by a combined team of security agencies.
Enisuoh said the reports received by Tantita and Sand Mason Engineering indicated that the site was being used for activities beyond its approval limits.
He said surveillance revealed that the 1000 metric tonnes capacity barge was loaded with illegal crude oil declared as sewage.
"A team of Tantita Security Services operatives continued to monitor the jetty for suspicious activities. It was observed that a sewage truck with plate number JR7750XA visited the jetty twice. During its third visit on May 12, 2023, the truck was accosted by the Tantita Security operatives keeping constant vigil over the area. Upon inspection, the substance found inside the tank was not sewage, rather, crude oil.
"The driver was arrested and handed over to government security operatives.
"The driver later revealed the destination of the contents, which took us to another yard inland, also operated by Mawe Services Limited. Within the Mawe Services Limited's premises, there were two metallic cylindrical tanks of about 45,000 litres capacity each. Both tanks were inspected and one was found to be filled up with crude oil," he said.
He said the driver of the truck confirmed that he had been transferring the contents of the barge into the tank.
He said inspection of the yard security logbook showed that the truck visited the location severally, adding that the contents of the truck were well spelt out as crude oil.
Enisuoh said the perpetrators frequently loaded the crude oil from the big barge into small gallons before transferring to illegal refineries.
He said, "One new method they use now is that they obtain documentation and authorisation from the government to fool security agencies, then go on to do other illegal jobs."
Copyright Ships & Ports Ltd. Permission to use quotations from this article is granted subject to appropriate credit given to www.shipsandports.com.ng as the source.