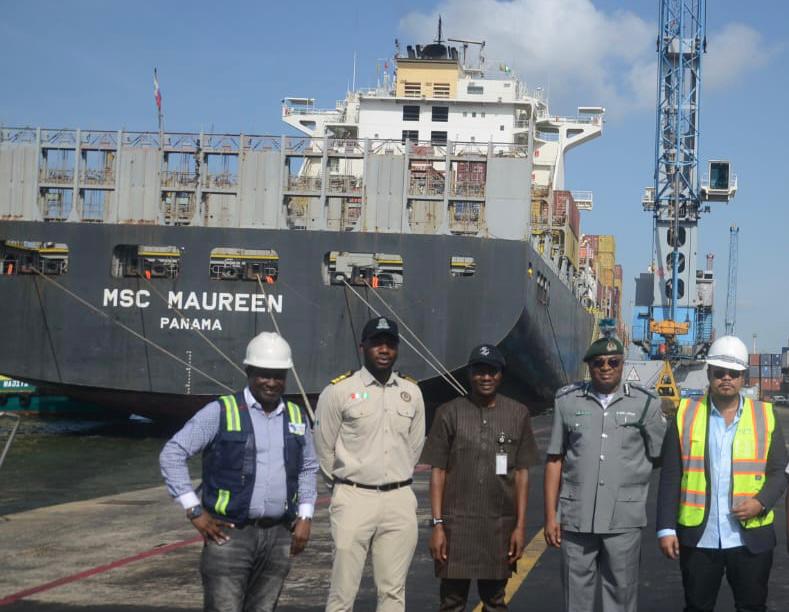 The Tincan Island Container Terminal Ltd (TICT) on Tuesday received the MSC MAUREEN — the largest containership ever to berth at Lagos ports.
The MSC MAUREEN, currently sailing under the flag of Panama, is a 6,750 TEU ship with a draught of 12metres, length overall of 300metres and beam of 40metres.
The historic berthing of the ship was witnessed by senior officials of TICT, Mediterranean Shipping Company (MSC), Nigerian Ports Authority (NPA), and Nigeria Customs Service (NCS), among others.
Speaking at the event, the Managing Director of MSC Nigeria Limited, Andrew Lynch said the successful berthing of the ship will bring significant economic benefits to Nigeria.
He said in addition to the economies of scale that the large vessel brings, it will also boost Nigeria's export drive as it will depart the shores of the country with export commodities meant for the international market.
"This feat will help us reduce cost and create economies of scale for importers and exporters. Tin Can and Apapa ports remain very important for the Nigerian economy so if larger vessels come here, it will be a great benefit to everyone. We have seen that we can do it and this will make Lagos more competitive because the larger the vessel, the lower the freight rate becomes in terms of imports and exports," Lynch said.
Also speaking, the Chief Operations Officer of TICT, Edward Ancly, described the berthing of MSC MAUREEN at the terminal as a great achievement.
"It is a major change in our operation. It is the first time we would see a 300metres length overall vessel coming into Lagos port, so it is going to give more capacity to the shipping lines and bring more business to Nigeria. I am very glad it happened here and in TICT," he said.
Also speaking, the Port Manager of Tin-Can Island Port Complex, Buba Jubril commended officials of the Nigerian Ports Authority for working together with the ship crew, the terminal operator and other relevant stakeholders to successfully berth the ship.
He assured all shipping companies, importers and exporters doing business at the port of prompt, efficient and professional service at all times.
Deputy Comptroller of Customs in charge of enforcement at the Tin Can Island Port Command of the Nigeria Customs Service, Aliyu Gambo, who represented the command at the event, said the successful berthing of the ship will translate to more revenue for the Federal Government.
TICT is the operator of Terminal B, Tin Can Island Port Complex, Lagos. It is Nigeria's second busiest container terminal. The terminal has three berths with a shore length of 770 meters and storage yard of 240,000 square meters.