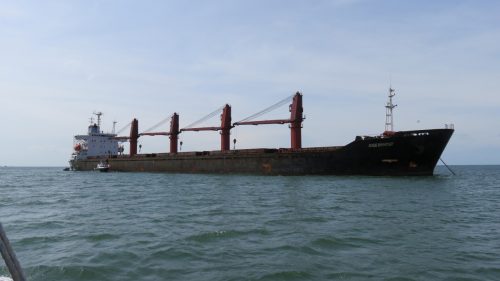 The US Department of Justice has announced the entry of a judgment of forfeiture regarding Wise Honest, a North Korean bulk carrier which allegedly violated the US sanctions.
The October 21 judgment of forfeiture confirmed the US Government's ownership of the ship.
The 17,061-ton Wise Honest, one of North Korea's largest bulk carriers, was used "to illicitly ship" coal from North Korea and to deliver heavy machinery back to the country, according to the US DOJ.
"This order of forfeiture sinks the Wise Honest's career as one of North Korea's largest sanctions-busting vessels," John C. Demers, Assistant Attorney General for National Security, commented.
"Today's (October 21) judgment of forfeiture finalizes the U.S. government's seizure of the Wise Honest and officially takes this North Korean vessel out of commission," Geoffrey S. Berman, U.S. Attorney for the Southern District of New York, said.
"It will no longer be used to further a criminal scheme. Using the full set of tools at our disposal, we will continue to investigate and prosecute attempts to evade U.S. sanctions, including by the North Korean regime."
The shipments were carried out from at least November 2016 through April 2018 by Korea Songi Shipping Company, an affiliate of Korea Songi General Trading Corporation. Songi Trading, a subordinate of the Korean People's Army, was designated by the Department of the Treasury, Office of Foreign Assets Control (OFAC) for its involvement in the sale, supply, or transfer of coal from North Korea.
On or about March 14, 2018, the Wise Honest was loaded with coal in Nampo, North Korea. Two weeks later, foreign maritime authorities intercepted and detained the Wise Honest. Maritime regulations require vessels like the Wise Honest engaged in international voyages to operate an automatic identification system (AIS) capable of providing information about the vessel to other ships and coastal authorities. However, despite its March 2018 voyage from North Korea, the Wise Honest had not broadcast an AIS signal since August 4, 2017.
Participants in the Korea Songi Scheme attempted to conceal the Wise Honest's DPRK affiliation by falsely listing different countries for the Wise Honest's nationality and the origin of the illicit coal in shipping documentation.
What is more, payments for maintenance, equipment and improvements of the Wise Honest were made in US dollars through unwitting US banks. This conduct violated US law and United Nations Security Council resolutions.
In May, a civil forfeiture complaint was filed against the bulker which had previously been seized by the US authorities. Following the detention, North Korea demanded the return of its cargo ship, claimed that the US committed "an unlawful and outrageous act" by dispossessing the country's cargo ship by forcibly taking it to Samoa.