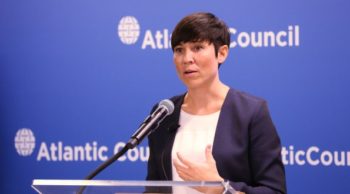 Norway will be subject to the new U.S. tariffs on steel and aluminium, the Nordic country's Foreign Minister, Ine Eriksen Soereide said on Friday, calling on her American counterparts to remedy the situation.
U.S. President Donald Trump signed a memorandum on Thursday to impose tariffs on products such as steel and aluminium. The EU and some other allies were exempted from the tariffs, but non-EU member Norway was not on the list.
"U.S. authorities informed us late last night that Norway was not among the countries exempted from the new tariffs on steel and aluminium," Soereide said in a statement.
Earlier on Friday, Norwegian aluminium-maker Norsk Hydro said the tariffs would have a negative impact on the aluminium sector, but a limited direct effect on the company.
"From a Norwegian perspective, this will have a very limited effect on us," said Hydro spokesman Halvor Molland, adding the company had "some exports" to the United States, but mainly from Germany, which is exempt, and from the Middle East, which is not.
Soereide said she would follow up with U.S. authorities both in Oslo and Washington and that Norway, a member of NATO and close U.S. ally, expects equal treatment.
"Norwegian exports are no threat to the U.S. We will convey this clearly to them today," she said.
Norsk Hydro's Molland said unilateral tariff barriers outside the World Trade Organization system would be bad for the entire aluminium industry.
"You risk creating flows of trading that do not follow regular market mechanisms," he said.
Agency Report