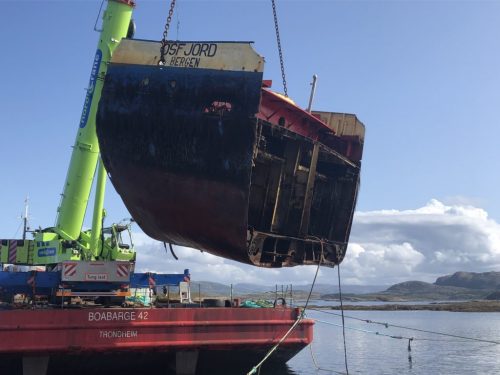 The wreck of the general cargo vessel M/S Osfjord, that grounded over a year ago off Norway, has been removed, according to Norwegian offshore supply vessel owner BOA Offshore.
The ship ran aground in Linesoya waters, north of Trondheim, Norway, in the morning hours of September 22, 2018. At the time, the vessel was sailing in southern direction from Brønnøysund to Kristiansund.
Osfjord suffered engine issues in rough weather conditions and grounded at the coast of Trøndelag. All crew members were evacuated by a rescue helicopter.
Several attempts were made to remove the vessel, but due to the conditions of the vessel, adverse weather and the exposed site, the operations were not successful.
Therefore, alternative methods for removal were considered and in July 2019, BOA Offshore presented a suitable method and was awarded the contract to perform a complete wreck removal.
The company cut the wreck into six sections. Each section was then lifted onboard Boabarge 42 using a mobile crane before transport of all sections to the scrap yard.
During the operations barriers and continuous monitoring was established to avoid any spills.
The complete wreck removal, including cleaning of debris from the sea bottom and the coast line, was carried out in 26 days "to the full satisfaction of both client and authorities," BOA Offshore said.