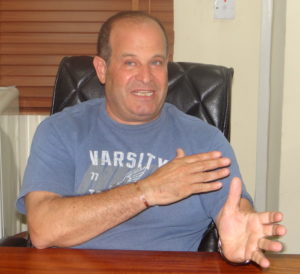 Mr. Danny Fuchs oversees the operation of Depasa Marine International in Nigeria. As the chief executive of Depasa, he manages Lagos Channel Management (LCM) and oversees the operation of and LTT Coastal and Marine Services Ltd. While LCM is a joint venture company formed by Nigerian Ports Authority (NPA) and Depasa Marine International to ensure effective and efficient management of the port channels in Lagos, LTT is responsible for managing NPA's tug boats and other marine services assets.
In this exclusive interview with an editorial team of SHIPS & PORTS DAILY comprising Bolaji Akinola, Jite Eriabie and Oluwtoyin Amao; Fuchs also speaks on other salient issues regarding port operations in Nigeria.
Excerpts:
There have insinuations that marine services – pilotage, towage etc – are not giving enough money to government. Is this correct?
Our company has a contract to manage the assets, the tugboats. We do not manage the operation. We also do not collect dues and fees on behalf of the government. Payments are made directly by the shipping lines to Nigerian Ports Authority so it is incorrect to say NPA is short-changed. NPA collects its money directly. Our role is to maintain the vessels, ensure they are in class and ensure they are available for use 24/7. The tugboats and other assets belong to NPA. We do not decide when or how the boats should be deployed. We do not generate or collect money on them. NPA is responsible for all those.
You don't collect revenue?
No, we are not collecting revenue and we do not go to any ship owner or shipping company to collect dues and fees from them. We get paid directly by NPA. Every quarter we send invoice to them to ask for reimbursement of our expenses based on an agreed and approved budget. Again, our role is to keep the vessels maintained so that operations will not be hampered at the port. Before the current arrangement, it was very difficult for NPA to maintain those vessels because the maintenance is capital intensive and because of bureaucracy, they could not get funds released on time. The effect was that those services which NPA should have provided to shipping companies suffered, leading to ships congestions and delays on the waters. So LTT was set up as a private sector-led arrangement. We take care of the cost of maintenance so that there would not be any down time this cost is part of our budget, we then seek reimbursement from NPA every end of a quarter. I think this arrangement has helped the system a great deal.  It is like a taxi which is used to carry passengers, if it is not well maintained and properly insured, if the seats inside are not good, it won't be able to carry passengers and if it does not carry passengers it will not make money for the owner. There are some services that require you to make certain expenditure on them before you are able to make your revenue. Towage is one of such services. We are the ones that have the responsibility of ensuring that the tugboats are always ready and available for NPA's use, so that it can provide services to its customers and generate money.
How do you think this arrangement has helped compared to the arrangement of the past when NPA was managing those assets by itself?
When some of the NPA tugboats were handed over to us, they were already running out of class. Some of them had already been suspended by the classification society. Most of the boats were in very bad shape. Servicing the boats by NPA was a big problem because of non-release of funds on time when needed (bureaucracy) which led the cases become worst. But we are an efficiently run private company. We have no constraints is speeding things up. We have fixed all the assets and ensured that they are in very good working conditions. There is a lot of difference now, tugboats are available all times and the ports are better for it.
What has been the impact of this efficient management on the port?
It has made the ports more efficient. Ships don't have to wait endlessly on the waters to berth. Immediately the ships arrive, the tugboats are ready to take them to the berths and when they are ready to leave, there is no wasting of time. And don't forget that in shipping, every minute counts. It is a huge cost saving for Nigeria because if the ships don't waste time unnecessarily in your port, they don't impose surcharges. So, the arrangement has brought in a lot of efficiency and has also increased the number of calling ships. The Tugboats are also available for 24/7 operations. Any time the ship is ready to berth or leave, the tugboats are on hand to work. This is very significant. This is different from the past when pilotage and towage were available only part of the day. And even in between those hours, there were series of downtimes, which constitute a huge drawback on the system.
So in essence we can say that Nigerian ports are operating 24/7?
Yes. This port, Lagos port as far as I know is a 24/7 port. Nobody has said ships are not working in the night, if ship does not come or go out during the night it is not because the ship lacks balance or the channels are not ready for night operations is for other reason. The next thing do is to enhance NPA's professional manpower. They have very good and competent pilots in NPA, but some times, these professionals face certain challenges. We are looking into this and we'll work with NPA to address the constraints faced by some of the pilots. The pilots are NPA staff, they are the ones that use these assets and they are very important professionals in the system. They are the ones that make the first contact with a ship that is calling at the port. They are also the last contact when the ship is leaving. They are representatives of government. This is why it is important of address any challenges they may be facing in terms of been available in the port whenever needed, like proper accommodation in the port etc. We have a very good management in NPA, which is open to creative ideas.
Do you think that the human resources part should also be privatised as against only the asset?
It is a complicated question because some areas cannot and should not be privatized. The marine pilots are like representatives of government. What we can do is to offer them support; they need to be officials of the government.
How many crafts do you manage now for NPA?
Presently, we manage 6 tugboats and there is an additional two new tugboats, which have just come in.
I know you have talked about the fact that the ports in Lagos are now more efficient, but compared to the ports in Asia, Europe and America, where will you place Nigerian ports?
Well, generally speaking, the ports in Lagos are efficient and competitive and for from the perspective of time, Lagos port has become more hub port then before bigger longer and more droughted ships are coming in besides that, Lagos is a nice environment and you know Nigerians are nice people.
Before now, you were deeply involved in training. I remember a few years ago we came here and flagged off your training of 40 cadets abroad. What is your experience on that, is it a project you are happy to undertake and how far have you been able to sustain that?
We are very happy with the training and we are sustaining it. From the 40 you mentioned, some of them are still here working with us. We started the program with 20 of them deck and 20 engineers. Some of them are Chief Engineers Some are mates in fact, three of them are already Master Mariners. At the moment, we have nine people still with us.
Of those 40?
Yes. People wanted to leave and have chances in other places some came back one of the deck officers came back last year and went to work as a mate and now we send him for training because he can be a captain.
The state of the economy in Nigeria is such that almost everyone is complaining. Has the recession had any impact on operations at the port or on the number of vessels that call at the port?
Well we see that the number of vessels that came has decreased and I don't know what November and December will look like but last month we saw some improvement in the number of vessels compared to last year. Before this recession, the number of ships had almost become constant every year but the sizes have grown.
What is the average?
Like 3,000 to 3200 ships for Lagos Ports alone and the sizes are big. There is a lot of improvement in the geometry of vessels. There was a period of time when they built special ship for West Africa called the WAFMAX ships which can take 5,500 TEU. These ships are 249 metres long and 38metres wide go for 13.5-14 meters drafts. Now there is a demand for new designs of 15metres draft which will make new challenges for the Lagos ports in the respect of the deepening of the channels and I believe we will need to be there.
How about the impact on your operation?
We are a management company. We need to give at least four tugboats everyday even if there is no calling ship to the port; we still need to maintain service because that is our obligation. We are not based on traffic; we are there for any assignment given to us by the NPA port control. The company that manages traffic is Nigerian Ports Authority (NPA).
Yours is to provide the asset?
Yes and we are always ready for them.
Copyright Ships & Ports Ltd. Permission to use quotations from this article is granted subject to appropriate credit given to www.shipsandports.com.ng as the source.