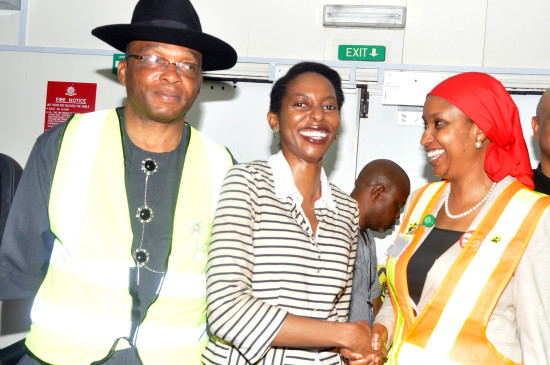 The Managing Director of Nigerian Ports Authority (NPA), Hadizah Usman, has vowed to ensure that no organisation operating in the maritime sector enjoys monopoly in the provision of oil and gas logistics.
The NPA boss stated this during a familiarisation visit to the Lagos Deep Offshore Logistics Base (LADOL) and Nigerdock Snake Island Free Zone, both in Lagos.
Chairman of Nigerdock, Anwar Jarmakani, had earlier told the NPA boss that monopoly was a threat to the provision of oil and gas logistics in the country. He alleged that Intels is promoting monopoly and has also sabotaged his company in the logistics business.
"In a two-year process, we were awarded a project by Shell, Chevron and ExxonMobil in order to reduce their costs. Intels raised hell on earth and killed the project with every possible accusation; they brought us to a standstill. That is history," he said.
Usman said NPA would in the coming weeks take a critical look at existing legislation to determine whether any monopoly currently exists. She stressed that she would ensure a level playing field for all operators and promote healthy competition.
"We will look to determine the area we will provide support for all. Within the next few months, we will look at all the enabling legislation to determine whether any monopoly exists or not. We will ensure that there is effective regulation that is transparent, that we all can understand. We will ensure that no organisation entrenches monopoly that can affect the development of Nigeria as a whole.
"Our plan is to ensure a regulatory environment that promotes the industry. We are looking at ensuring that there is competition; we have visited most of the terminals at the various ports we feel the need for the government to ensure that local content for example is adhered to.
"Businesses are coming into the country, we will do our best to encourage them to ensure that the utilisation of their operations are domiciled in Nigeria, we also encourage for operators to ensure that they have Nigerians within their ranks, employment for Nigerians is very important. We also believe that wherever enabling environment is required we will provide," she said.
She promised to bring all operators to the table to fashion out ways to improve the sector and make sure Nigeria gets the maximum benefit from it.
She said, "We believe in stakeholders consultation, we are going to bring everyone to the table for us to seat down and ensure that there is need for us to work together. As an authority, we are going to lead and ensure that local content is provided. We will step beyond the things that we historically used to do so that whatever is required for the operators to work together for Nigeria to have the maximum benefit that it can attract for itself within this environment. We will reach out to the respective ministries and work together in ensuring that this is achieved.
"We are looking at making Nigeria the hub for West Africa; working to ensure that there is operational efficiencies and make effort to improve the ease of doing business and the competitiveness of our port operations; we will work with the operators and look at areas where there is overlapping among the operators and agencies within the Ministry of Transportation and ensure that we work together to ensure that there is synergy.
"There is the need for us to understand the current economic situation and define methods and mechanisms to improve on our revenue drive. We are working to have new trade routes defined; we are also going to look at internal trade whereby
Copyright Ships & Ports Ltd. Permission to use quotations from this article is granted subject to appropriate credit given to www.shipsandports.com.ng as the source.