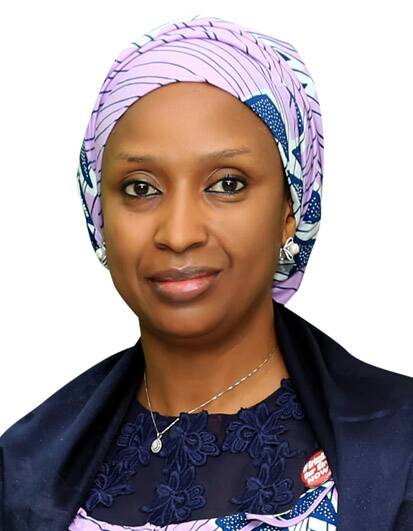 Maritime industry stakeholders and port security experts have accused the management of Nigerian Ports Authority (NPA) of poor handling of security issues at the ports as ships discharging cargoes at berth now come regularly under attacks by armed robbers. 
Investigation by SHIPS & PORTS DAILY revealed that no fewer than nine ships were robbed at berths in various port terminals across the country between March and April 2018. 
Usually authoritative sources at NPA headquarters, Marina informed SHIPS & PORTS DAILY that while the various attacks were reported to the Managing Director's office, the NPA management has failed to take necessary action to put a stop to the security breaches. 
Some of the ships attacked at the ports include MV Pamyat; MV Asia Ruby, MV Aquata, MT Sichem New York, MV Kiana and MV Dino. 
MV Pamyat, with International Maritime Organisation (IMO) number 8701040 was attacked at berth 14 of the Lagos Port Complex (LPC), Apapa o March 2, 2018 when some bandits gained access into the ship with ease.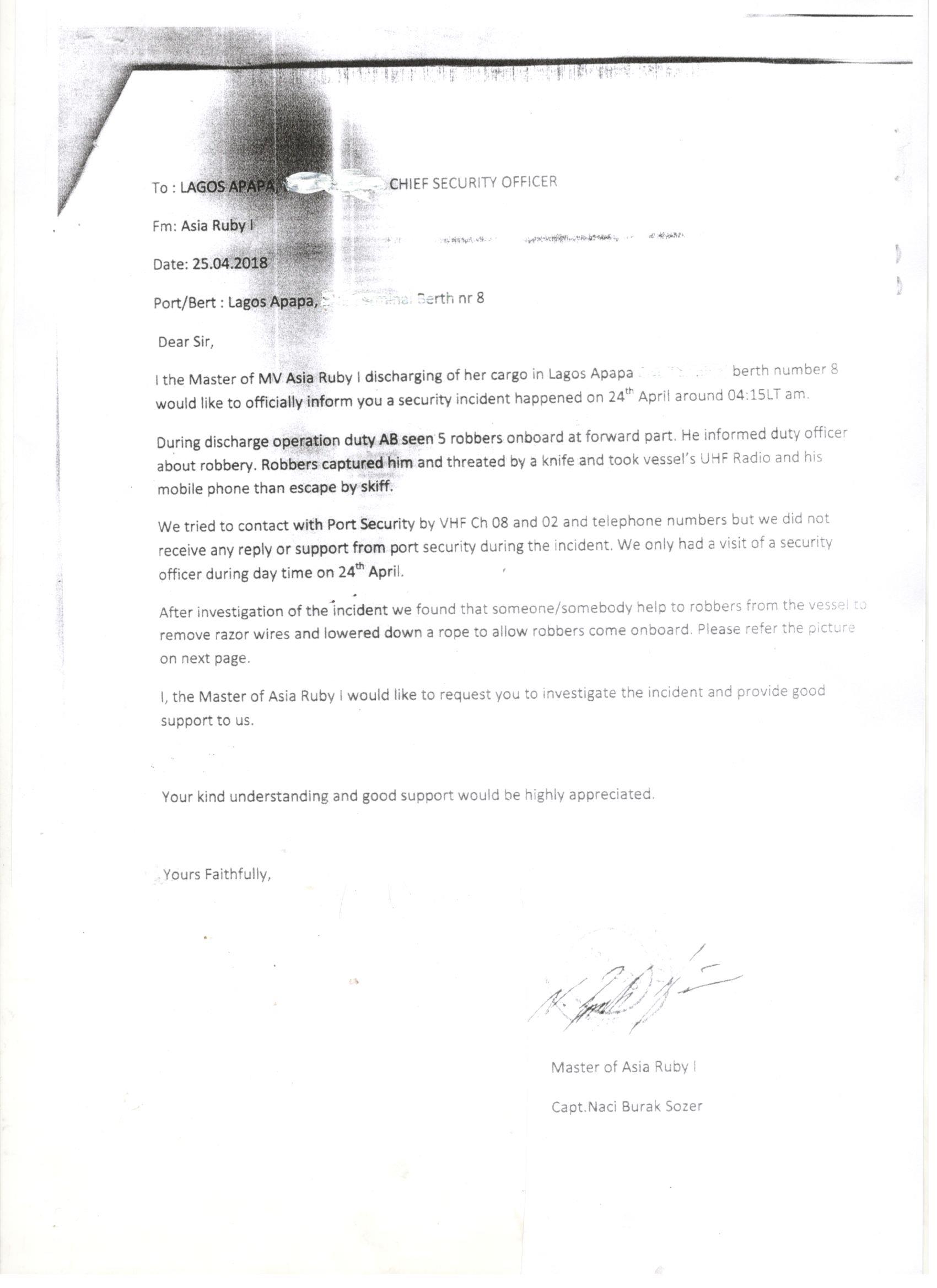 According to a report filed by the Master of the ship to NPA, the attackers came in a small craft boat through the waterfront and stole 11 buckets of paint from the ship. 
MV Asia Ruby was attacked at 0415hours on April 24, 2018 at berth 8 of LPC while discharging her cargo. The robbers carried out their nefarious act on the ship without any hindrances from NPA security officials or the Marine Police. 
In his report to NPA obtained exclusively by SHIPS & PORTS DAILY, the Master of MV Asia Ruby, Captain Naci Burak Sozer, insinuated some form of conspiracy in the attack on his ship. 
"During discharge operation duty AB seen 5 robbers onboard at forward part. He informed duty officer about robbery. Robbers captured him and threatened him by a knife and took vssel's UHF Radio and his mobile phone then escaped by skiff.  
"We tried to contact with Port Security by VHF Ch 08 and 02 and telephone numbers but we did not receive any reply or support from port security during the incident. We only had a visit of a security officer during daytime on 24th April. 
"After investigation of the incident we found that someone/somebody help to robbers (sic) from the vessel to remove razor wires and lowered down a rope to allow robbers come onboard," Sozer stated. 
The Tin Can Island Port Complex (TCIPC) also in Lagos is not spared the robbery attacks. A report from the Port Security Officer (PSO) of TCIPC, which was sighted by SHIPS & PORTS DAILY, indicates that at about 0320hours on Friday March 3, 2018, eight persons suspected to be armed sea robbers launched attacks onboard MV Aquata and MT Sichem New York, which were discharging cargoes at berths 2 and 1 of the port respectively.
"Preliminary findings revealed that a gang of sea robbers came through the waterfront in an outboard engine boat and launched attacks onboard MV Aquata where three of the robbers succeeded in climbing into the vessel while the remaining five were on standby inside their boat by the portside of the vessel. The crew watchmen onboard sighted one of the robbers at the paint stores and raised alarm immediately. 
"The terminal security and armed policemen on duty rushed onboard but discovered that a watchman onboard was injured by one of the robbers before they jumped into the water and escaped. There was blood stain on the main deck of the vessel," the PSO stated in the report. 
Findings by SHIPS & PORTS DAILY also revealed that in the wee hours of March 18, a group of sea robbers numbering about 20 gained access into Josepdam terminal through the waterfront and headed to the terminal's fuel dump. The robbers beat up and tied the security guards at the fuel dump before they connected a hose from their standby boat to evacuate fuel from the terminal's fuel tank. The robbers, who reportedly operated unchallenged for more than an hour, succeeded in carting away about eight drums of diesel from the terminals. 
Four days later and precisely on March 22, 2018, the robbers called at Josepdam again. This time, they launched an attack on a ship named MV Kiana. The ship, which was discharging its cargo of bulk sugar belonging to BUA Sugar Refinery, has Nura Shipping Limited as its agent in Nigeria. 
The robbers, as usual, stormed the ship using canoe, which they brought alongside the ship and gained access onboard with the aid of a rope tied to a hook. 
According to the ship Master's report, the sea robbers broke into the ship stores and succeeded in carting away "ten rolls of hold cover rubbers and one water jet machine". 
At the Rivers Port in Port Harcourt, Rivers State, the sea robbers are also having a field day. Information available to SHIPS & PORTS DAILY revealed that a ship, MV Dino, laden with 20,721MT of bulk wheat was attacked about 80 nautical miles to the Fairway Buoy on her way to PTOL terminal at about 5am on Saturday 7th April 2018. 
Some maritime experts, who spoke with SHIPS & PORTS DAILY on the security breaches, say Nigeria risks heavy sanctions from the International Maritime Organisation (IMO) if the Nigerian Ports Authority (NPA) fails to check the current spate of attacks on ships at berths at the nation's seaports.  
The National President, National Council of Managing Directors of License Customs Agent (NCMDLCA), Mr. Lucky Amiwero, said, "NPA has a lot of role to play but they have not performed enough. If you allow your port to be exposed to piracy, the implications are very grave. First, you may have a shipping surcharge; it will affect us as a country and increase our freight.
"A lot of vessels will not be free to come into the country and it would be declared as a zone that is prone to piracy. Once, it is declared that way, people will not like to come to our ports.
"It is also going to affect our international image, and when that happens, it is going to affect some of our investments. People will not want to bring their cargoes to the port because they know that if they do, it is going to create lot of problems for them.
It is also going to affect employment. If they continue with the attack, shipping companies will want to go and start to look for another hub. As it stands now, we have lost a lot of components to our neighbouring countries like Togo, Benin Republic, Chad and Ghana."
The President, Nigerian Shipowners Association (NISA), Alhaji Aminu Umar said attacks on vessels at Nigerian ports and jetties have been on the rise in recent time with little or no action from NPA. 
He said, "We have seen so much attacks in the evening. The robbers come and take whatever they can in the ships. It is not only the responsibility of NPA to secure the vessels in the harbour, but they should do more for vessels that are alongside at their ports. For private jetties, the Marine Police, Navy and NIMASA should be involved. There is need for them to work together to ensure that the harbours are totally secured."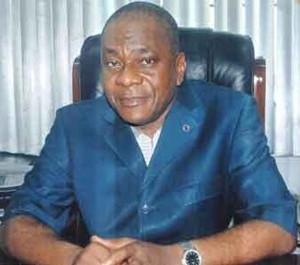 The NISA President said the implication of the attacks on ships at the ports are grave and "it puts our name in the international maritime wall and that it is dangerous and high risk area to do business particularly for ships to call". 
According to him, "If the ports in Nigeria are considered as high risk area, what it means is that any ship owner coming here pays an additional insurance premium for coming into a zone that is called war risk zone. Some pay as high as $100, 000 to $200, 000 dollars for every seven days they are to stay on Nigeria waters."
President, Association of Industrial Security and Safety Operators of Nigeria (AISSON) Dr. Ona Ekhomu said when ships are constantly attacked at the ports, "what this does aside from losing confidence of local investors is that it also increases insurance to Nigerian ports".
"Business in the world is run on trust and integrity. If people don't trust you, they will move the freight somewhere else, they will say when you berth in Nigerian port, somebody is going to rob you, so they will start going to Cotonou and other neighbouring ports. The kind of maritime positions and benefits that should come to this country will not come because we have already lowered our integrity. 
"So all these things that tend to make Nigeria a hostile and unfriendly business environment and it really needs to be tackled head on," he said. 
When contacted, NPA spokesman, Abdullahi Goje, said, "I am busy. I can't talk now." He however refused to respond to, or return further calls made to his telephone.