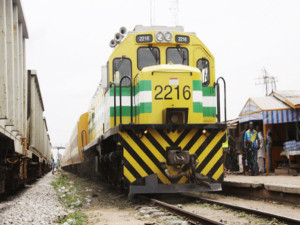 The Nigeria Railway Corporation (NRC), Rigasa Station Manager, Hassan Zubairu, has denied alleged sharp practice in the sale of tickets to passengers boarding train from the station in Kaduna to Abuja.
Recently, some passengers had complained that tickets were being hoarded and sold to a few travellers at the station.
Zubairu on Tuesday in Kaduna told newsmen that the tickets usually got exhausted early due to high volume of passengers on the Kaduna-Abuja route.
According to him, more passengers now prefer to travel by train because of comfort and safety, and this has led huge demand for tickets.
He said, "Presently, the train coaches only convey 320 passengers per trip and for now the demand for tickets is higher than our carrying capacity.
"We get more than 1000 requests for ticket each day for business and economy class which we cannot meet.
"The increase of passengers with limited coaches to accommodate them has resulted to passengers alleging tickets racketeering, and there is absolutely nothing of that nature.
"We start selling tickets at 2pm and in 20 minutes the tickets are sold out leaving a lot of passengers waiting for the next trip."
Zubairu also dismissed as false and unfounded, claims that the coaches were being overloaded.
"Tickets being sold have seat numbers and we ensure that we convey the right number of people on the train, so as not to inconvenience other passengers.
"There are two stations when the train departs Kaduna, I can speak for myself, I do not know what happens at the next station" he said.
Zubairu assured that the Federal Government would soon deploy two new locomotive engines and three coaches to meet the increasing demand of passengers along the route.