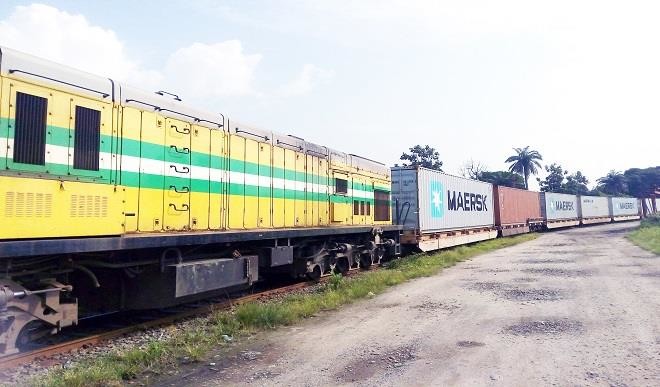 The Nigerian Railway Corporation (NRC) has extended the suspension of movement of containers by rail from the Lagos Port Complex Apapa.
Lagos Railway District Manager, Jerry Oche, disclosed this in an interview with SHIPS & PORTS shortly after an inspection tour of the narrow gauge rail linking the Apapa Port in Lagos on Tuesday.
Recall that the NRC had announced the suspension of rail service at Apapa port for two months from September 15 to November 14 to pave way for the resumption of track laying on the ongoing standard gauge rail project and rehabilitation of the old narrow gauge.
Oche explained that difficulty in getting some equipment and the recent protest against police brutality in the country were responsible for the delay in the completion of the narrow gauge rehabilitation.
He said, "We have not started operation at Apapa Port because the contractor is still working. There is no way the standard gauge would have been ready because the deadline was December but the narrow gauge which is supposed to be a rehabilitation to fix some new parts and then rehabilitate some old ones has not been completed because there was difficulty in getting some of the materials they needed for the narrow gauge.
"Don't forget that the EndSARS protest also contributed because it is a kind of programmed work. So those days of EndSARS protest, there was nothing they could do. Nobody could work. Those were the main reasons but they are trying to make sure they catch up with the lost time."