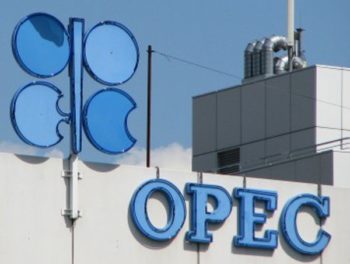 Oil prices shot up over four percent to their highest level since 2015 early on Monday after OPEC and other producers over the weekend in Vienna reached the first output cut deal since 2001 .
They jointly reduced output in order to rein in oversupply and prop up the market.
Brent sweet crude futures, the international benchmark for oil prices, soared to 57.89 dollars per barrel in overnight trading between Sunday and Monday, its highest level since July 2015.
U.S. West Texas Intermediate (WTI) crude futures also hit a July 2015 high of 54.51 dollars a barrel.
With the deal finally signed after a year,the market's focus will now switch to compliance with the agreement.
ANZ bank said that Saudi Aramco, Saudi Arabia's state-controlled oil company, had informed customers that their allocations would be reduced in January 2017, in line with the recent OPEC production cut agreement."
OPEC has said it will slash output by 1.2 million barrels per day from Jan. 1, with top exporter Saudi Arabia cutting around 486,000 bpd in a bid to end overproduction .
Oversupply has dogged markets for over two years and pushed the economies of many oil exporting countries into crisis.
On Saturday, producers from outside the 13- country OPEC group agreed to reduce output by 558,000 bpd, short of the initial target of 600,000 bpd.
Waivers induce corruption, Adeosun says
The Minister of Finance, Mrs Kemi Adeosun, has said waiver of tax and charges granted by the government to some companies induce corruption in Nigeria.
The minister also said Nigeria's current economic mess was largely caused by corruption.
Speaking at a national conference on corruption in Abuja at the weekend, Adeosun, who defined corruption as "abuse of entrusted power for private gain", added that corruption was inimical to national development.
The minister who was represented by Mrs Patience Oniha, Head Efficiency Unit of the ministry also said many Nigerians had accepted corruption as a way of life.
She said "waivers and allocations unintentionally induced corruption."
Adeosun further said poor record systems, weak judicial systems and weak internal audit also contributed to corruption in the country.
Weak anti-corruption institutions and non-enforcement of sanctions or punishment on officials accused of corruption and pervading poverty are fuelling corruption in Nigeria, she added.
In May 2015, the Senate reportedly uncovered a N447 billion waiver fraud that involved big local firms importing rice, sugar and other products. The fraud was allegedly done through import duty waivers, concessions and grants by agencies of the Federal Government. The report then recommended that some firms who imported rice with the waivers and grant remit over N23billion, while others for sugar imports were to remit over N48billion.
Copyright Ships & Ports Ltd. Permission to use quotations from this article is granted subject to appropriate credit given to www.shipsandports.com.ng as the source.