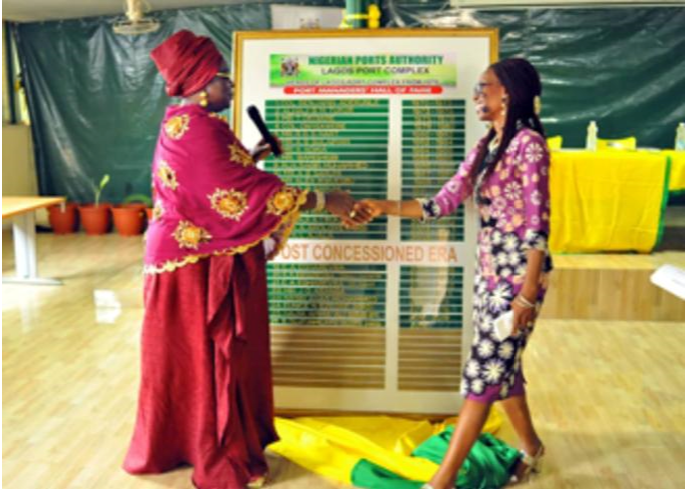 Mrs Funmilayo Olotu has taken over from Hajia Aisha Ali-Ibrahim as the Port Manager of Lagos Port Complex (LPC), Apapa.
During the handover ceremony held at the port on Tuesday, the outgoing Port Manger, Ali-Ibrahim, said, "I am very happy with the management because they have put somebody who is capable to take over as Port Manager because Lagos Port Complex is the largest in the whole country and handling Lagos Port Complex is more difficult because of the size and even the personnel.
"As at today, we are about 614 while other ports are probably half of that number. So, we have a lot to do in-house and managing the stakeholders. The traffic gridlock is here and we have been trying to address it. She must bring her own different style into the management of the traffic situation at Apapa."
The outgoing Port Manager said various measures were instituted during her tenure to facilitate the ease of doing business at the port. The measures, according to her, include the building of a Safety, Information and Operation Centre (SIOC); a library; a crèche; and a multipurpose hall, among others.
She said, "This multipurpose hall is one of our laudable achievements because it is going to save the management some money. We don't go to hotels anymore to have stakeholders meetings and as you can see, it is of standard.
"We have a crèche where we support the nursing mothers in this environment. We have the Safety Information Operation Centre as you come into the port and the first contacts of the port where you can get all the information you want about Lagos Port Complex.
"We have the library where everybody can always walk in and even government agencies can always walk in. We have the standard training hall where we have sensitization and various trainings. We have 24hours emergency clinic for port users and employees. We have 24 hours canteen such that at any time you come in through the port, you will find food to eat. So, the port environment is honestly of international standard."
Also speaking, the new Port Manager, Funmilayo Olotu, said, "Today is a remarkable day for me as I travel down memory lane to 30th August, 1988. That was the day of appointment for a fresh undergraduate who succeeded in securing employment with the Nigerian Ports Authority after NYSC as a Communication Officer 1.
"After completion of all registrations, I was redeployed to the Lagos Port Complex Apapa and 31 years after, I stand before you as the Port Manager of the Port."
On her plans at the port, she said, "What we intend to do is not going to be totally different. We want to embark on an expansive consultation with every aspect of the maritime domain within Nigeria. I am not limiting it to Lagos Port. We want to see other things they are doing in other places so that we can borrow a leaf from them. I am going to consolidate effort and initiative of my predecessor, Hajia Aisha Ali-Ibrahim. She has done a lot, I must give kudos to her.
"Looking at what we also left behind at Calabar, one of my slogans while I was there was 'promoting purposeful partnerships'. We don't look down on anybody. So, I want to bring to bear creative innovations of doing things such that whatever they have on ground as we are consolidating we are also chatting new courses.
Olotu expressed her concern over the traffic gridlock in Apapa and hoped that a lasting solution would be provided soon.
"For all the stakeholders, I want to first express my concern for the experiences they are all facing owing to this Apapa gridlock. I know it is affecting businesses, homes and people. But after expressing the concern, I am telling them there is a silver lining behind the clouds.
"The port system cannot function effectively without a good road network. Access to the port and exit from the port are all critical and crucial to port operations. Only call-up trucks can have access into the port. We are going to mandate our security personnel; they can no longer afford to be stationery security, they have to be mobile. I can assure you that at the headquarters, Hajia will be proud of what she has left behind," Olotu said.
Hajia Aisha Ali-Ibrahim moves to the Nigerian Ports Authority (NPA) headquarters as Assistant General Manager Operations.