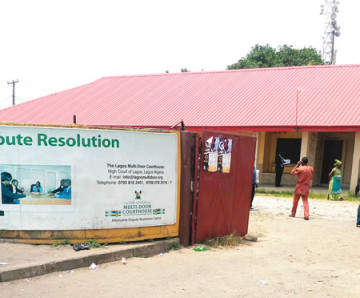 The Chief Judge of Lagos State, Hon Justice Opeyemi Oke has ordered the courts in the Apapa Magisterial Districts not to sit due to the likelihood of a riot by tanker and truck drivers in the metropolis.
One of the registrars of the court, who pleaded anonymity, told SHIPS & PORTS DAILY that the court could not sit because of the palpable tension occasioned by the persistent traffic gridlock in the Apapa area. 
"We got a directive from the Chief Judge that the courts in Apapa should not sit today. We were told that the reason was because of the ongoing operation by the security agencies to restore sanity in the area. Moreso, there are rumours that the tanker and trucker drivers might go on a riot today," the court official said on Monday. 
A police prosecutor, who also spoke on condition of anonymity confirmed the suspension of court proceedings on Monday. 
He said, "I was at Agbo-Malu between 9am and 10am. There was no sign because the gate and the court were opened. Some lawyers were there and others. We waited for a while, only to be told that the court is not sitting."
Recall that in June 2017, the Apapa Magistrates' Court suspended sitting for one week due to the Apapa gridlock.