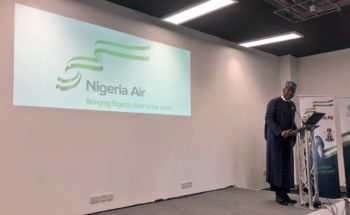 The Minister of State for Aviation, Senator Hadi Sirika, on Tuesday said the Federal Government was not paying $300 million for a five per cent stake in Nigeria's new national carrier, Nigeria Air.
Sirika responding to questions about the national carrier which was launched on Wednesday, July 18, said the government was only providing startup capital for the airline.
The minister's response is contained in a statement in Abuja by the Deputy Director of Media and Public Affairs, James Odaudu.
Sirika said, "The government is not funding the entire project. It's just providing startup capital in the form of an upfront grant/viability gap funding.
"Once the strategic equity investor is in place, they will be expected to build on the initial investment made.
"$8 million represents startup capital for offices etc required for takeoff. But $300 million is the entire airline cash flow funding requirement (aircraft, operations and working capital) for three years (2018, 2019 and 2020).
"The funding can be in the form of equity or debt. The financial model estimates cash flow requirements as follows 2018 ($55 million – $8 million is included here), 2019 ($100 million) and 2020 ($145 million).
"In order to ensure take-off of the airline in 2018, the government will provide $55 million upfront grant/viability gap funding to finance startup capital and pay commitment fees for aircraft to be leased for initial operations and deposit for new aircraft whose delivery will begin in 2021."
Sirika further stated that the strategic investor will only become known after the public-private partnership procurement process is completed.
He also said share would be sold after one year of operations.
Sirika said the company's shares will be sold through an initial public offering after which the government will own five per cent equity.
"Government's equity share held in trust for Nigerians will be devolved to Nigerians via an IPO.
"The government will retain only 5% equity, the list of shareholders then will be available to SEC and the Nigerian Stock Exchange.
"The rest of the 95% equity of Nigeria Air Limited will then be owned by the strategic equity investor and the general public.
"At that point, Nigeria Air Ltd becomes a public company subject to SEC, NSE and relevant CAMA rules for public companies."
The minister also said the airline will begin operations with the domain name; www.flynigeriaair.ng.
He said, "The airline will begin operations with dry leases and the domain, www.flynigeriaair.ng, will become active soon.
"Someone has already registered nigeriaair.ng apparently in anticipation of a buy-out by the proposed airline."