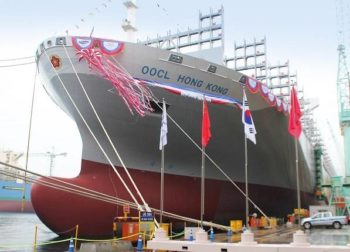 Less than two months after the MOL Triumph earned the title of the world's largest containership by carrying capacity as the first ship to cross the 20,000 TEU mark, a new Ultra Large Container Vessel (ULCV) is already boasting the ability to transport more than 21,000 twenty-foot containers as the world's largest shipping companies compete to expand their fleets.
On Friday, Hong Kong-based Orient Overseas Container Line (OOCL) christened the OOCL Hong Kong during a ceremony at Samsung Heavy Industries in Geoje, South Korea. With a carrying capacity of 21,413 TEU, OOCL Hong Kong shatters the record of the world's largest ship by TEU capacity.
"This is a very exciting time for all of us because today marks the first time that OOCL is receiving newbuildings in the 21 thousand TEU size," said C.C. Tung, Chairman of Orient Overseas (International) Limited, during Friday's christening ceremony. "In fact, the OOCL Hong Kong will be a titan among containerships at sea, with a carrying capacity at 21,413 TEU. An important milestone for us at OOCL indeed."
The OOCL Hong Kong measures 399.87 meters in length and 58.8 meters in breadth, ranking it among the largest ULCVs in operation today by dimensions. But with the ability to transport 21,413 TEU, it is the first to cross the 21,000 mark. The vessel is the first of six identical ships ordered by OOCL at SHI in April 2015 for a total cost of US$950 million.
Christening of OOCL Hong Kong comes less than two months after the 20,150 TEU MOL Triumph made headlines as the first ship to surpass 20,000 TEU, but its reign as the 'largest ship' was rather short-lived thanks to the delivery of the 20,568 TEU Madrid Maersk in April.
"While our industry seems to have the knack to 'out do' one another in building larger containerships relatively quickly these days, this project is nonetheless an important moment for us," said Tung. "Faced with increasing competition and un-ending pressure on costs, we need to take the bold step in operating larger size ships of quality and high efficiency in order to stay relevant and compete effectively as a major container shipping company."
The OOCL Hong Kong will be serving the Asia-Europe trade lane on the LL1 service with stops in Shanghai, Ningbo, Xiamen, Yantian, and Singapore, and via Suez Canal to Felixstowe, Rotterdam, Gdansk, and Wilhelmshaven, before making its return leg.  
Copyright Ships & Ports Ltd. Permission to use quotations from this article is granted subject to appropriate credit given to www.shipsandports.com.ng as the source.