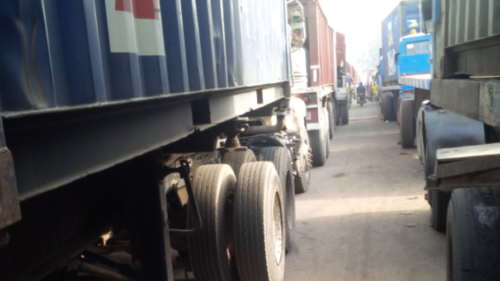 Residents of Apapa have decried open and indiscriminate defecation by truck drivers and motor boys on the roads and drainages in the area, calling on the Lagos State Government to provide public toilets to save them from health hazards.
The residents also condemned okada riders who sleep on their bikes openly in the streets at night, a development they said poses security threat to the community.
Addressing journalists in Apapa, the Chairman of Apapa Residents Association, Aderemi Olikuntuyi, said truck and tanker drivers as well as okada riders have taken advantage of gridlock in Apapa to perpetrate the ugly acts.
He said efforts made by the association to stop truckers from turning the roads to public toilets had not been successful due to lack of public toilets.
He said, "First, it is the nuisance of tanker and truck drivers who pack their vehicles indiscriminately along the major roads leading to Apapa especially on the overhead bridges, thereby causing serious traffic jams. Besides this, tanker and truck drivers have continued to litter the whole environment with faeces and urine making the area filthy and disgusting.
"To effectively and efficiently tackle such problems, it is advised that the Lagos State Government should immediately step in on this issue. The issue is not to be left entirely in the hands of the Federal Government.  To prevent an epidemic in Apapa, there is the need to provide functional public toilets."
Olikuntuyi also condemned the activities of security operatives in the community.
"It has seemingly become a norm for security personnel in the Apapa community to unlawfully escort commuters on a daily basis in Apapa and making life unbearable for the people of Apapa community. This particular action immensely contributed to traffic jams in Apapa. It can be seen that the shooting of the young Nigerian who had cleared his goods by a Customs officer depicts the height of brutality by security officers in Apapa," he said.