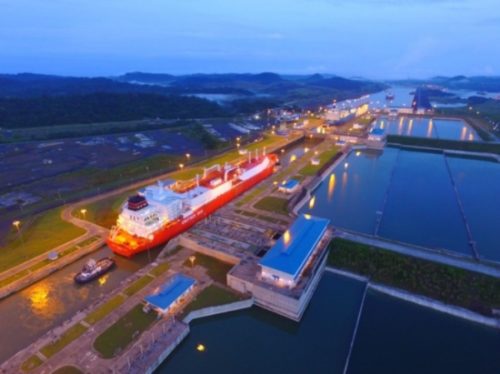 The Panama Canal reached a new milestone Monday after the successful transit of four liquefied natural gas (LNG) ships with a beam of up to 160 feet (49 metres) in a single day through the neopanamax Locks and with it broke the record set on 17 April 2018, when three LNG vessels transited through the waterway on the same day.
The 173,000 cu m Ribera del Duero Knutsen and the 174,000 cu m Maran Gas Pericles with transited northbound, while the 174,000 cu m  Torben Spirit and 155,300 cu m  Oceanic Breeze with a cargo transited southbound, facilitating international trade between customers in South Korea, Japan, Chile and the US Gulf Coast.
As a result of experience acquired with the transit of more than 4,200 neo-panamax vessels, the Panama Canal introduced changes to its Transit Reservation System to offer two slots per day to LNG vessels. These modifications have allowed to optimise the expanded Canal's capacity, in order to in order to meet specific demands such as the transit of four LNG vessels in one day.
The modifications – announced in August 2018 and that came into effect 1 October – also allow lifting certain daylight restrictions for LNG vessels, as well as meetings between LNG vessels in opposite directions in Gatun Lake. The adjustments introduced a new booking period within the 1st booking period, called booking period 1.a, which will be accompanied by corresponding modifications to the duration and slot allocation within each booking period.
These changes also included a transition period for those LNG vessels that have already obtained slots during the current booking period 1, which will allow customers to release them without being charged a cancellation fee.
The total slots available for neopanamax vessels and priority for certain market segments remained unchanged. However, by tailoring the reservation process, along with restructured cancellation fees for current LNG carrier practices, the Panama Canal said it aimed at curbing unused reservations moving forward, thereby improving slot utilisation and service reliability.
"The transit of these four LNG ships in just one day demonstrates the Panama Canal's commitment to maximizing the efficiency, flexibility and reliability of its service to all customers," said Panama Canal Administrator Jorge L. Quijano.
With these modifications effective 1 October, the Panama Canal reinforces its capacity to handle the growing LNG transit demand coming from the United States once the different export terminals begin operation, Panama Canal Authorities said in a statement. 
Copyright Ships & Ports Ltd. Permission to use quotations from this article is granted subject to appropriate credit given to www.shipsandports.com.ng as the source.