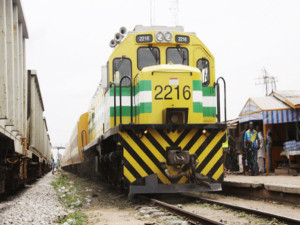 The senior staff association of railway workers, northern district, has said the federal government must "pay off" workers before it concessions facilities of the Nigerian Railway Corporation (NRC).
Chairman of the association, Huseini Abdul, over the weekend said the workers were not against the concession but their welfare must be considered.
He said the fate of the workers after the concession was of paramount concern.
"But our major bone of contention here is the workers' stand, our welfare must be considered by taking all necessary measures towards paying us off before concession," Abdul said.
"The agitation of our leaders at the headquarters is before the concession, let government pay us off, so that they can recall anybody they are interested in to work with.
"Are we still going to be carried along or we will be retrenched? Actually, we have been hearing from President Muhammadu Buhari through the minister of transport, Rotimi Amaechi saying that no worker will lose his job.
"However, we have seen what happened in the cases of NEPA and NITEL, where workers were assured that nobody would be affected, but eventually something went wrong."
He said the government should allow them own their official residences as directed by an industrial court in Lagos.
"This has been bothering us a lot because you find out that in other organisations, both in the federal and state levels, their houses were given to their workers, why not in the railway.
"We have been paying the rent every month and every year. This privilege was given by President Obasanjo's administration, and we feel it is high time we also benefit from it.
"This is because we are still within the system and we deserve to be treated as such and to be given such privilege of owning our houses."