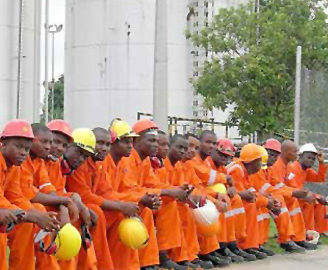 The Akwa Ibom Branch of Petroleum and Natural Gas Senior Staff Association of Nigeria (PENGASSAN) have condemned the recent disengagement of several workers by the management of Exxon Mobil and therefore passed vote of no confidence on the Managing Director Paul McGrath for sacked workers in the company.
The National Deputy President of the association, Jude Chidinwaogu, stated this yesterday while speaking to newsmen in Mkpanak in Ibeno Local Government Area of the state explained that the situation if not arrested could degenerate to an unpleasant situation
This position was the climax of PENGASSAN'S Congress and protest march held at Mobil Producing Nigeria (MPN), at Lagos gate in Ibeno, Akwa Ibom.
Chidinwaogu decried incessant sacking of Nigerians by the company in place of expatriates saying it negates the Nigerian Local Content Law.
"It is unfortunate that the new MD of ExxonMobil have rebuffed effort by the branch executives of PENGASSAN to have a meeting with him and find a solution to the impasse.
"He has not deemed it fit and even on May 1st while all workers were celebrating workers day the Managing Director suspend the Union Executives that was involved in this struggle.
According to him, in conclusion of the resolution of the meeting, we have begun strike to press our demands.
The National Deputy President of the association explained that in 2015, the management of ExxonMobil sacked many Nigerians and again in 2016, the company sacked 83 staff and replaced them with expatriates.
"In the last one year, this company has brought in so many experts from abroad even into the security department.
"It will embarrass you to note that in security department only, over 30 experts are there now doing the job of Nigerians," Chidinwaogu said.
Chidinwaogu maintained that ExxonMobil was working against the interest of Nigeria through its employment policy.
"Nigerian workers in departments like security, procurement / logistics including maintenance has witnessed the replacement of General Managers who were Nigerians with foreign experts.
"And this is happening at a time we cutting cost, as we all know what is happening in the oil and gas industry these days.
He said that the Union is embarking on an indefinite strike to pressurise the company to re-absorb all the Nigerian sacked by Exxon Mobil
"It is left for the management to quickly arrest the situation or allow it to degenerate to a point where production will be affected", he said.
Also speaking, Paul Eboigbe, the branch Chairman of PENGASSAN alleged that MPN indiscriminately sacked members from work without severance entitlements.
He said that the Union demanded Collective Bargaining Agreement (CBA) to resolve the issues.
"One expatriate salary is enough to pay 25 of Nigerians, that is why we say no, a stop must be put to it.
"As at last year in 2015, about 150 staff were sacked and in 2016, 110 members were sacked excluding management staff", he said.
Manager, Media and Communications of ExxonMobil, Ogechukwu Udeagha, could not be reached as at press time.   
Copyright Ships & Ports Ltd. Permission to use quotations from this article is granted subject to appropriate credit given to www.shipsandports.com.ng as the source.