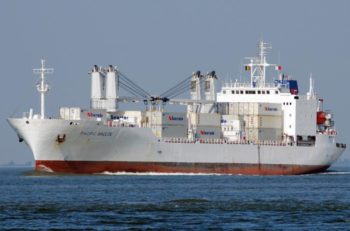 Antwerp-based shipping company Seatrade Reefer Chartering has denied the allegations that it was withholding wages of the crew aboard the reefer vessel Pacific Breeze and planning to repatriate the seafarers upon the vessel's arrival in the port of Oran, Algeria, as reported by the International Transport Workers' Federation (ITF) earlier.
Seatrade Reefer Chartering said that it "has been wrongly accused of withholding wages of the valued crew of the reefer vessel Pacific Breeze."
The company added that it "would like to reiterate that as the commercial managers of the Pacific Breeze it has no involvement at all in any direct funding of the vessel's crew. Payment of wages is a joint responsibility of the owners and technical managers of the vessel."
"As an international shipping company Seatrade Reeder Chartering would like to express its deep concern that parties have fallen short of their financial obligations to the crew of Pacific Breeze," the company said, adding that the seafarers "have eventually received their lawful payments."
Having fulfilled its legal and financial obligations, Seatrade Reefer Chartering informed that it has meanwhile terminated the commercial management of the 1990-built reefer Pacific Breeze.
According to a statement released by the International Transport Workers' Federation (ITF) on April 19, which has since been taken down from the ITF website, the federation said that the intervention of the ITF and Algerian port state control "won the full back pay owed to 22 crew members of the Pacific Breeze, owned by BSBS Ltd Moscow, before they were repatriated."
ITF further informed that the Russian crew had requested its assistance on April 3, claiming that the ship's operator Seatrade Reefer Chartering had not paid their wages totaling USD 139,810 for February or March and was planning to repatriate them when the vessel arrived in Oran port in Algeria.
World Maritime News reached out to ITF seeking more details on the withdrawal of the press release, however, the federation is yet to reply.     
Copyright Ships & Ports Ltd. Permission to use quotations from this article is granted subject to appropriate credit given to www.shipsandports.com.ng as the source.