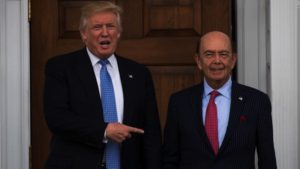 Wilbur Ross, who as Donald Trump's commerce secretary will be the voice of U.S. business, made a fortune spinning financial dross into gold.In the early 1990s, Ross became a star as an adviser to stakeholders in moribund companies. As the longtime head of Rothschild & Co.'s bankruptcy advisory business in New York he helped dictate the outcomes of big bankruptcies, including that of Trump's Taj Mahal Casino Resort in Atlantic City, New Jersey. He also worked on the Texaco Inc. and Trans World Airlines Inc. bankruptcies.
Striking out on his own in 2000, Ross bet billions scooping up and combining companies in U.S. industries such as steel, coal, auto parts and textiles, which were threatened by excess capacity, overseas competition and onerous labor contracts.
Now, Trump will depend on Ross to create jobs and further his agenda for trade and the economy.
"Wilbur Ross is a champion of American manufacturing and knows how to help companies succeed," Trump said in a statement Wednesday. "Most importantly, he is one of the greatest negotiators I have ever met. Wilbur knows that cutting taxes for working families, reducing burdensome government regulations and unleashing America's energy resources will strengthen our economy."
Steel success
Ross, who turned 79 on Monday, was hardly the first so-called vulture investor to feast on troubled or dying enterprises. What set him apart was an ambition to reshape entire industries.
In his seminal deal, starting in 2002, Ross bought the remnants of LTV Corp. and Bethlehem Steel Corp. — once-iconic steelmakers that faced liquidation — along with six other producers. Shedding debt, hiring back idled workers and revising pay pacts and factory operations, Ross cobbled together International Steel Group Inc., then the second largest and most efficient integrated steelmaker in the U.S.
In 2004, Ross and his backers announced the sale of Richfield, Ohio-based ISG for about $4.5 billion to U.K. steel billionaire Lakshmi Mittal, reaping more than an eightfold profit of about $2.9 billion.
"Industries generally go bad as industries," Ross said in a 2012 interview with the Deal magazine. "If you can change the industry and simultaneously change the company, it's a double-header."
The steel industry's fate has both a symbolic and practical importance for Trump, who used its decline to win votes in Rust Belt states.
"Once the proud champion, your steel has been decimated," Trump said in an an October speech in Johnstown, Pennsylvania. "We know all about the games where China is dumping all over the place. They are dumping steel. Your steel will come back."
Still, employment in U.S. steel and metals production has fallen by 42 percent in the past two decades to about 370,000, according to the Bureau of Labor Statistics. Many jobs were lost to automation, a circumstance that any commerce secretary would have difficulty changing.
Banks, shipping
In his business career, Ross had mixed results applying his model to ailing industries besides steel.
WL Ross & Co., the New York-based private equity firm he founded in 2000, pumped about $12 billion into almost 200 companies ranging from Bank of Ireland Plc and Eurobank Ergasias SA., Greece's third-largest bank, to shippers and oil producers. He continued to lead WL Ross & Co. after he sold it to a British money manager, Amvescap Plc, now Atlanta-based Invesco Ltd., for about $375 million in 2006 to expand the firm's assets and geographical reach.
Ross strove to stay on labor's good side even as his taste in companies made them natural enemies. Leo Gerard, who led the United Steelworkers when Ross bought LTV, lauded the investor for revitalizing the company, though officials at other unions judged him less kindly.
"Leaders of some of the big industrial unions, the steel workers, the auto workers — they understand the dynamics of the industry at least as well as the senior management of the companies," Ross said in a 2010 interview with Charlie Rose.
Unassuming demeanour
Short, bald and bespectacled, Ross presents the opposite of Wall Street flash. His deep knowledge of markets and strong opinions have made him a popular guest on business television, where he speaks quietly and slowly.
He also relishes talking politics. A longtime Democrat-turned-conservative, Ross backed Republican Mitt Romney's presidential bid in 2012. Four years later, he denounced Romney's harsh criticism of Trump, saying it promoted discord.
Born in Weehawken, New Jersey, Ross attended Xavier High School, a Jesuit prep school in Manhattan, where he was captain of the rifle team, a sport that permanently damaged his hearing. In 1959, Ross received a bachelor's degree in English from Yale University, his father's alma mater.
Ross graduated from Harvard Business School in 1961. A professor, Georges Doriot, a World War II Army brigadier general who was one of America's first venture capitalists, took him under his wing. Doriot, Ross has said, was instrumental in shaping his approach to reviving companies.
Source: Bloomberg. 
Copyright Ships & Ports Ltd. Permission to use quotations from this article is granted subject to appropriate credit given to www.shipsandports.com.ng as the source.