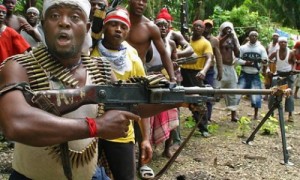 A prominent ex-militant leader, Africanus Ukparasia, popularly known as 'General Africa', has vowed to resist renewed threats by the Niger Delta Avengers (NDA) to begin attacks on oil installations in the region.
Ukparasia warned members of the NDA to steer clear of the region, especially his home state, Bayelsa State.
The former commander of the Movement for the Emancipation of Niger Delta reportedly spoke in Yenagoa on Thursday after patrolling the creeks of Bayelsa.
Ukparasia, who is the Chairman of the Bayelsa State Waterways Security Task Force, said he would not joke with his mandate to secure the creeks of the state and stop the criminal activities of Avengers and their supporters.
He said the "gods of Bayelsa" would not allow the NDA to cause chaos, and further degrade the state's environment.
He noted that his task force was ready to deal decisively with anybody or group that tried to turn the state into a theatre of a needless war and destruction of lives and property.
Ukparasia said he would not fold his arms and watch a ragtag group to give the military excuses to invade Niger Delta communities.
He stated, "We advise Bayelsa people to report any suspicious movement in their communities as it is the duty of all to be vigilant against the nefarious activities of criminals who cause problems to give the military reason to invade our communities for innocent people to suffer.
"The task force will no longer allow the destruction of oil facilities in Bayelsa, with the attendant consequences of low federal allocation and non-payment of salaries.
"We also advise youths not to fall for the antics of some persons deceiving them to buy firearms to partake in a phantom arms buy-back programme of the Federal Government.
"The Waterways Security Task Force headed by me was legally established by the Federal Government in collaboration with the Bayelsa State Government to stop crime and criminal activities along the waterways of Bayelsa.
"We pledge to work with the security agencies to maintain peace and order in the state. We, hereby, warn that anyone trying to sabotage the peace in the state will be decisively dealt with as no stone will be left unturned to maintain the peace currently being enjoyed in the state."
He called on the security agencies to watch the activities of some undesirable elements in the society to avert any possible breakdown of law and order.
Ukparasia also commended the Bayelsa State Governor,  Seriake Dickson, for his commitment to the peace and stability in the region.
He said that if all the Niger Delta governors had been committed to the peace in the region like Dickson, the Niger Delta would have been one of the most peaceful regions in the country.