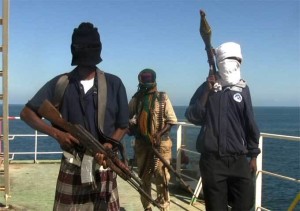 Armed pirates attacked two vessels in separate incidents on February 24 off the coast of Bonny Island, Nigeria, according to the IMB Piracy Reporting Centre.
In the first incident, which occurred in the morning hours some 50 nautical miles off Bonny Island, some eight armed pirates in a speed boat chased a container vessel underway.
IMB informed that the alarm was raised, ship security alert system (SSAS) was activated, and the speed was increased, while all non-essential crew retreated to the citadel. The Nigerian navy was also contacted, who informed the Master to rendezvous with their naval vessel in the vicinity. As the pirate boat closed, the Master commenced evasive manoeuvres.
Due to the manoeuvring, the pirates were unable to hook their ladder onto the vessel and moved away. 
Nigerian navy escorted the vessel to the pilot boarding point.
The second incident occurred in the afternoon hours, while a refrigerated cargo ship was underway some 40 nautical miles off Bonny fairway buoy.
Around ten pirates in a speedboat, armed with automatic weapons, chased and fired upon the vessel. The armed guards onboard the vessel returned fire, resulting in the pirates aborting the attack and moving away. 
Copyright Ships & Ports Ltd. Permission to use quotations from this article is granted subject to appropriate credit given to www.shipsandports.com.ng as the source.