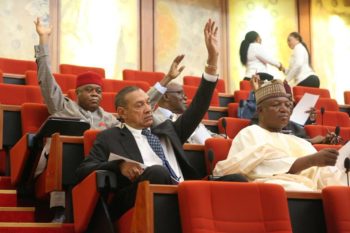 By Omotilewa Quadri 
The Senate on Wednesday asked Nigerians to blame members of President Muhammadu Buhari's cabinet for the delay in the passage of the 2018 Appropriation Bill by the National Assembly.
The upper chamber during plenary lamented the delay caused by ministers and heads of Federal Government departments and agencies. It accused ministries, departments and agencies (MDAs) of frustrating legislative work on the budget proposal with their foreign trips and refusal to cooperate with the lawmakers.
The Senate had on February 14, 2018, asked 63 agencies and parastatals under the Federal Government to submit details of their proposed 2018 budgets within one week or risk sanctions.
The lawmakers noted that while President Muhammadu Buhari had complied with the law by laying the 2018 Appropriation Bill along with details of estimates before the Senate, agencies of the government had disregarded the law.
On Wednesday,
While responding to a question by Senate President, Bukola Saraki, at plenary on Wednesday, Vice Chairman of the Committee on Appropriations, Senator Sonni Ogbuoji, said, "Since January, the Appropriations Committee's doors have been opened to receiving reports from the sub-committees. However, most of the sub-committees have a huge challenge with the MDAS because majority of the MDAS are not coming forward to interface with them.
"Some of the ministers will tell you that they are travelling out of the country; because of that, the MDAs are not fully ready. So, we don't have the reports yet.
"We believe that it is when the MDAs come forward that our colleagues will be able to finish their work. Some of the committees are unable to do their work. When they (committees) screen what they (MDAs') have brought, they will ask them to go work on the budgets and come back. But they don't come back, and that is delaying the work on majority of the MDAs. This is why the completed report is not yet ready as of today." 
Reacting, Saraki said it was the intention of the lawmakers to complete the process as soon as possible. He asked the Majority Leader, Senator Ahmad Lawan to communicate to the executive arm of government "so that these MDAs, ministers and heads of agencies can be told to play their part and ensure that this exercise is completed."   
Copyright Ships & Ports Ltd. Permission to use quotations from this article is granted subject to appropriate credit given to www.shipsandports.com.ng as the source.