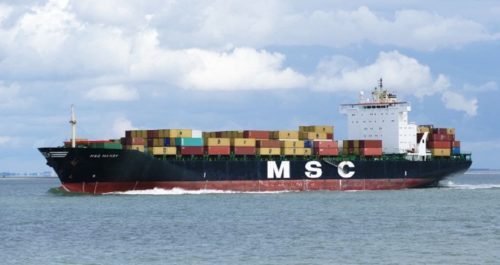 Mediterranean Shipping Company (MSC) on Thursday confirmed the release of six seafarers kidnapped off one of its ships, the MSC Mandy, off Cotonou, Benin Republic in January. 
The crew members, who are all Russians, were released in Nigeria, according to a source in the Russian Embassy in Nigeria. 
"MSC is pleased and relieved to confirm that the six crew members, who were reported as missing after a small container ship was attacked in the Gulf of Guinea on January 2, have returned home safely," MSC said in a statement sent to SHIPS & PORTS DAILY yesterday. 
The company, however, did not disclose if ransom was paid for the release of the crew. 
"MSC has no further comment at this time, out of respect for the crew members and their families," it said. 
In January, SHIPS & PORTS DAILY reported that the 2,668 TEU MSC Mandy was attacked and its six of its crew members kidnapped by pirates 55 nautical miles off the coast of Cotonou, Benin Republic.
The ship was sailing from the Port of Lome, Togo, when it was boarded. It had 24 crew members on board, including 23 Russian nationals, according to the information from the Russian Embassy in Nigeria. Six Russian crew members were taken, while the remaining crew members were reported safe.
The ship, which was sailing from Lome, Togo when it was attacked by the pirates, was escorted to Nigerian waters and anchored off Lagos.
On January 9, MSC said it was setting up a team to negotiate with the abductors. 
"We have engaged security experts and are creating a team for contacting the pirates. The team will include lawyers, negotiators, and employees of a company that deals with security. We hope to establish the first contact today," MSC spokesman, Rafaele Porzio, had said.