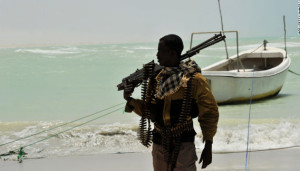 Global piracy has shifted away from hijacking and towards kidnapping as the number of kidnappings now stands at 44 for the period from January to 30 September 2016, according to IHS Markit.
Within the same time-frame 37 percent of crew involved in a piracy situation have been kidnapped.
The number represents a significant increase compared to a total of 19 crew members who were kidnapped during 2015, while a year earlier, in 2014, only nine kidnappings were tracked.
"Piracy has changed in the past three years," Devlin McStay, data analyst at IHS Maritime and Trade, said, adding that, while the number of piracy attacks is decreasing overall, kidnapping is becoming more common.
Additionally, the number of kidnappings are rising in the piracy hotspots of Southeast Asia and West Africa. In the first nine months of 2016, 60 percent of all piracy incidents in the Gulf of Guinea were kidnaps and 40 percent were robberies.
"Piracy in the Gulf of Guinea is focused on kidnap for ransom and is concentrated on high-value Western targets," said Martin Roberts, senior analyst at IHS Country Risk.
"The need for alternative funding and ongoing militancy in the Niger Delta region will continue to drive these risks into 2017. Onshore dynamics are affecting offshore risks," Roberts added.
The areas most affected by piracy include Southeast Asia, near the Malacca Straits, the Gulf of Aden, and the Gulf of Guinea.
In 2014, there were 245 piracy attacks across 26 countries, 20 fewer than 2013. The number of incidents in 2015 were similar. So far, 2016 has had fewer than 100 attacks, making it the quietest year in six years.
The seas around the Philippines are the most pirated, with the seas around Nigeria the second most and the seas around India third.
Copyright Ships & Ports Ltd. Permission to use quotations from this article is granted subject to appropriate credit given to www.shipsandports.com.ng as the source.