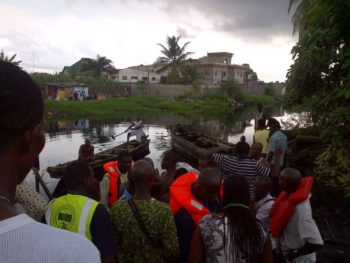 Following the recent boat mishap that claimed 12 lives in Ilashe area of Lagos State, the Maritime Command of Nigeria Police Force says any boat involved in mishap that leads to loss of lives will be confiscated and the operators prosecuted. 
Spokesman of the command, Sadik Tunde, Assistant Superintendent of Police, told SHIPS & PORTS DAILY that the it has sensitized stakeholders on the need to always use life jacket whenever they are traveling on water.
"What we have done in the past and we will keep on doing is sensitizing the stakeholders on the need to use life jacket whenever you are to travel on water. We have made it compulsory that no boat should carry any passenger without wearing the proper life jacket. Not just wearing any life jacket, but wearing the proper life jacket. 
"We have also tried to let them know the offence and offences they would be committing in case of any mishap that result to loss of lives that henceforth any driver involved in boat mishap, the boat would be confiscated and the driver would be charged for manslaughter. 
"So, we have tried to sensitize them on the need to ensure and always insist that passengers entering their boats must put on a life jacket and we have also gone out to even sensitize the passengers also on the need to always insist that boat drivers provide them with life jacket before entering the boat," he said.
The Managing Director, Lagos State Waterways Authority (LASWA), Engr Abisola Kamson, has attributed the boat mishaps in the metropolis to overloading and loose observation of safety measures.