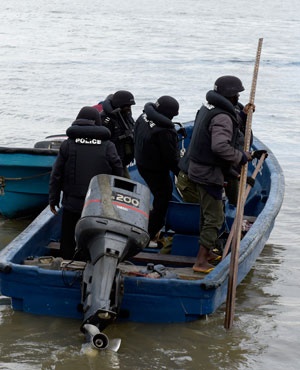 The Assistant Inspector General of Police (AIG), Maritime Command, Alkali Baba Usman has described the command's ability to secure the waterways with speed boats as a difficult task.
Speaking with SHIPS & PORTS DAILY, Usman said policing Nigeria's waters was expensive, as it involved the use of speedboats which were more expensive to maintain than vehicles.
He said, "The amount of diesel or petrol consumed when patrolling under an hour is more than that consumed when driving from Lagos to Kaduna or Maiduguri. One can consume 300 or 400 litres of diesel or petrol in one or two hours.
"However, with effort from the government, we are hoping that we have more logistics, support and training for personnel."
Usman said he would reach out to maritime stakeholders to provide support to the command.
He said, "Policing is a task that must be done but we need the collaboration, appreciation and synergy with sister security agencies. I think we need to reach out to people to ensure safety of the maritime environment. We are ready to collaborate and synergize with all stakeholders."
He said maritime security challenges were enormous but surmountable.
He reacted to a recent news report that the command had resumed blockage of containers at the port, describing it as a complete misrepresentation of facts.
"The story said we resumed blocking of containers; we never stopped blocking of containers. We had information on the container in question that not all items in the container were declared. Even some of the items declared ought not to have come into the country. So, we put a stop on the container to enable us check and confirm the information. And we asked the agent to bring what he had as manifest to enable us check because the information we had was that he has manipulated his way. So it was on that basis that we asked him to come and make his statement.
"He declared four vehicles quite alright as contained in the Bill of Lading. But in two instances, the declaration indicate the vehicles are in the category of those not to be imported into the country," Usman said.
He cautioned port users not to have the impression that they could not be stooped by any security agency after being cleared by Customs.
"Nobody should think that once you are cleared by Customs, no other persons should stop you. Other sister agencies can stop you like NDLEA, SON etc. There are other agencies that have vital roles to play to ensure that members of the public do not suffer. That is why the marine police will not stop blocking containers.
"There must be collaboration, synergy and understanding of everybody's roles. More importantly, the police are jack of all trade and master of all. There is no aspect of life that does not require policing," Usman said.