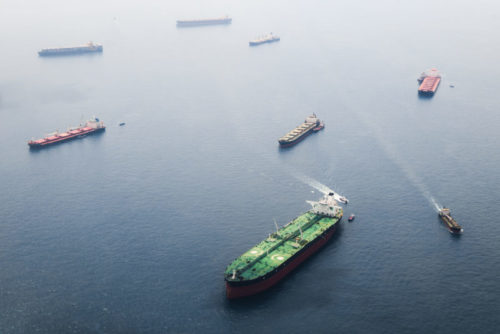 The Maritime and Port Authority of Singapore on Friday announced a raft of measures and released two technical guidance booklets to ready the Port of Singapore for the International Maritime Organization's global sulfur limit rule for marine fuels.
The IMO will cap global sulfur content in marine fuels at 0.5% starting January 1, 2020, from 3.5% currently. This applies outside the designated emission control areas where the limit is already 0.1%.
Shipowners will have to switch to more expensive cleaner fuels, consider alternative fuels such as LNG, or use HSFO with scrubbers to comply with this rule.
Singapore is the world's largest bunkering port. Sales of bunker fuel in Singapore rose 4.2% year on year to a record 50.6 million mt in 2017, MPA data showed in January.
Singapore's MPA has been at the helm of several initiatives to promote cleaner fuels as well as enhance transparency and efficiency in the country's bunker industry, moves that are being closely watched by the shipping community worldwide.
"To help prepare the industry for the IMO 2020 fuel oil sulfur limit, we have developed a comprehensive action plan and are in the midst of its implementation," MPA Chief Executive Andrew Tan said at the Singapore Registry of Ships Forum 2018 held in Singapore.
The MPA and the Singapore Shipping Association have released two technical guidance booklets for Singapore-registered ships and ships calling at the Port of Singapore, he said.
The booklets outline the options available for ship operators to comply with the new regulations, which include the use of approved abatement technology such as scrubbers, alternative fuels and compliant fuel oil, Tan said."
In addition to these guidance booklets, we will be issuing another set of guidance by the second quarter of 2019, detailing Singapore's readiness for the IMO 2020 regulations, covering topics such as fuel availability in Singapore, reception facilities for scrubber residues, and enforcement measures," Tan said.
To protect the marine environment and ensure that the port waters are clean, the discharge of wash water from open-loop exhaust gas scrubbers in Singapore port waters will be prohibited, Tan said.
The open-loop scrubbers ban will be effective from January 1, 2020, MPA said.
This means ships fitted with open-loop scrubbers calling at Singapore will be required to use compliant fuel, Tan said.
Ships fitted with hybrid scrubbers will be required to switch to the closed-loop mode of operation, he said, adding that Singapore, as a party to MARPOL Annex VI, will be providing reception facilities for the collection of residues generated by the operation of scrubbers.
As far as reception facilities for hybrid/closed-loop scrubber residue is concerned, when a ship is at berth, the residues can be offloaded in packaged form or in intermediate bulk container tanks directly to trucks operated by licensed toxic industrial waste collectors, according to the guidance booklet.
When a ship is at anchorage, the residues can be offloaded in either format to MPA-licensed craft to be brought ashore and transferred to the same trucks, it added.
"To promote the adoption of remote inspection techniques such as the use of drones, we have published our acceptance criteria for the use of remote inspection techniques for surveys," Tan said.
This enhances safety as marine surveyors do not need to put themselves in precarious positions on board ships to conduct inspections, he added.
MPA has also started conducting overseas inspections on selected Singapore-registered ships as part of a five-year "SRS Quality Flag Assessment Programme" to ensure that the vessels continue to operate safely worldwide, he said.
Under this program, in addition to local inspections, the flag state control officers will also conduct overseas inspections on selected Singapore ships, Tan said.
Ships are selected for overseas inspection based on a risk matrix, taking into account whether the ships call at Singapore.
"During these overseas trips, our officers will also take the opportunity to visit and enhance our bilateral ties with the local port authorities," he said.
The MPA is also working closely with bunker suppliers to ensure that there will be adequate supply of compliant fuel oil in Singapore well in advance of 2020, Tan said.
"We will produce a list of suppliers that are able to supply compliant fuel by the middle of next year," he said.   
Copyright Ships & Ports Ltd. Permission to use quotations from this article is granted subject to appropriate credit given to www.shipsandports.com.ng as the source.