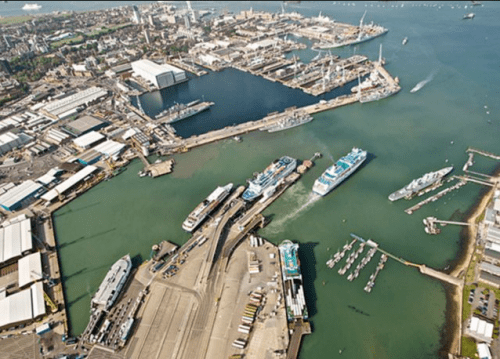 Portsmouth has set out plans to become the UK's first zero emission port.
The port has set out its commitment in a letter to the UK Department of Transport which outlines plans to become carbon neutral by 2030.
Wind turbines and solar panels are planned to be installed across the port site to become energy self-sufficient by 2030. The port will also offer shoreside power so ships visiting Portsmouth can plug in for power rather than using auxiliary generators.
The port's customers are also introducing greener vessels with Brittany Ferries operating its first LNG-powered vessel Honfleur in 2020 with two more ships to come.
The plans are subject to funding approval for a capital spend of over £10m and a successful government grant application.
Portsmouth International Port's Director, Mike Sellers, said, "These proposals are innovative, but we need to take bold action if we're to meet our goal to be the first zero emission port. We're serious about this ambition, which is why we want to take a radical step with our monitoring data and be as open and transparent as possible."