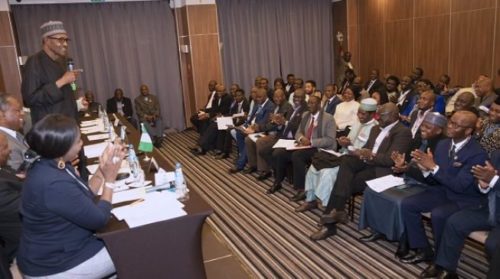 President Muhammadu Buhari has expressed his resolve to stop complaining about the problems his administration inherited when it came into office.
Buhari said he "asked for it" by relentlessly vying for office four times before emerging president in 2015.
He made the comments while speaking with a cross-section of Nigerians in Poland on the sidelines of the global summit on Climate Change.
"We inherited so many problems. Actually, I have said I will not complain because I asked for it. I tried to become President three times and I lost, but I was lucky the fourth time, I became one, so I can't complain.
"Who asked me to do it again? Three times I ended up in the Supreme Court. The third time, I said, 'God dey' and the fourth time, God and technology, using the permanent voter card and the card readers, they couldn't rig the elections; so I won."
Speaking on the security situation in the country, the President said significant progress has been made in the war against insurgency.
He said Boko Haram insurgents have been able to launch attacks in recent months because "they know the area more than the soldiers".
"Those in the north-east will tell you that before we came, the so-called Boko Haram used to hold about 17 local governments. Now, physically, they are not holding any local government. So they have resorted to real guerilla tactics of hit and run.
"They mobilise, hit targets and then disappear again because they know the area more than the soldiers that are defending them. Our soldiers are from Port Harcourt, Lagos, Sokoto, but they are locally there and know the terrain more than the soldiers," President Buhari said.   
Copyright Ships & Ports Ltd. Permission to use quotations from this article is granted subject to appropriate credit given to www.shipsandports.com.ng as the source.