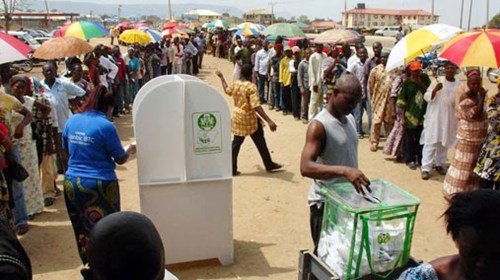 By Omotilewa Quadri 
The Independent National Electoral Commission on Tuesday released the timetable and schedules of activities for the 2019 general elections.
INEC Chairman, Prof. Mahmood Yakubu, said in Abuja that the dates for National Assembly and Presidential elections remain Feb. 16, 2019; while governorship and State House of Assembly elections, will hold on March 2, 2019.
INEC had earlier released the dates for 2019 general election in March 2017.
Yakubu said that the conduct of party primaries including resolution of disputes arising from primaries for national and state elections has been slated for between Aug. 18 and 2018 to Oct. 7, 2018.
He added that the conduct of parties primaries for the FCT Area Council election has also be scheduled for between Sept. 4 and Oct. 27.
Yakubu said that political campaigns by political parties for Presidential Election and NASS elections would commence on Nov. 18 and end on Jan. 14, 2019; while that of governorship and State Houses of Assembly would start on Dec. 1 and end on Feb. 28, 2019.
He said that notice for elections would be released on Aug. 17, while collection of nomination forms for national and states elections by political parties has been fixed for between Aug 17 and Aug. 24, while that of the FCT is slated from Sept. 3 to Sept 10.
The chairman said that the last date for submission of nomination forms by political parties has also been scheduled for Dec. 3 for president and NASS elections, and state elections Dec. 17.
He also said that the collection of nomination forms for FCT Area Council elections would commence on Nov. 3 to Nov. 10, while the last date for the return of the nomination forms is Dec. 14.
The commission, according to Yakubu, would on Oct 25 publish the personal particulars of National elections candidates on Oct. 25 and those of the state candidates on Nov. 9.
He also announced Nov. 17 as the last date for the withdrawal or replacement of candidate(s) for president and NASS elections, and Dec. 1 for governorship and state house of assembly elections.
Yakubu said that the INEC would on Jan. 2, 2019 publish notice of the polls, and on Jan. 7, 2019 publish official register of voters for the election.
The chairman said that political parties were also expected to submit names of their agents for the elections on Feb. 1, 2019.
He disclosed that 1,558 constituencies elections made up presidential, 29 governorship elections, out of which seven are staggered would be conducted in 2019.
Yakubu assured Nigerians that the commission was determined to strictly adhered to the timetable and implement it to the letter.
He added that the commission needed the support and cooperation of all stakeholders to succeed, saying it expects full adherence to the provisions of the Constitution and the Electoral Act, which formed the basis of the timetable.
Copyright Ships & Ports Ltd. Permission to use quotations from this article is granted subject to appropriate credit given to www.shipsandports.com.ng as the source.