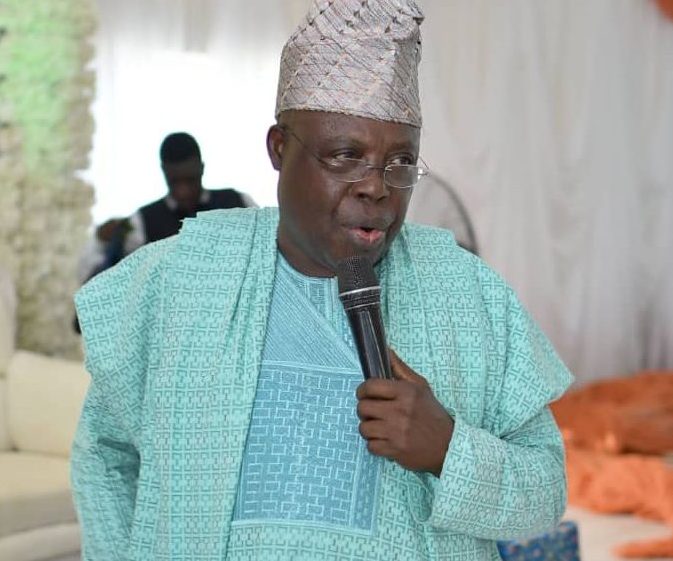 Dorothy Thomson, America's 20th century author and journalist, once wrote, "Age is not measured by years. Nature does not equally distribute energy. Some people are born old and tired while others are going strong at seventy."
Looking at Prince Olayiwola Shittu, it may be difficult to believe that he has just joined the club of septuagenarians. Unlike some people who are born tired, God has given him a large proportion of energy that he is really going strong at seventy. Besides, people who live their lives for others like Shittu always keep going strong, for God always replenishes their strength.
Prince Olayiwola loves people. There is hardly anyone that comes in contact with him that will not leave with a lasting impression of him. This is irrespective of who you are or where you come from. He is highly detribalized and does not look down on anybody. He likes to put smiles on the face of everyone close to him or comes in contact with him, hence he has touched so many lives in his working years out of the seventy years he has lived on earth.
Shittu's love for humanity does not know any boundaries. He is always quick to identify with suffering people with remarkable compassion and fellow-feeling, always doing his best to alleviate their plight. He has touched so many lives all over the country, his kindness and generosity transcending ethnic sentiments and boundaries.
Prince Shittu is an intellectual giant who left a lasting impression on me the first time I listened to him. He struck me as an intellectual among the customs clearing agents. His wealth of knowledge of the economy, shipping and maritime sector was such that we journalists always enjoyed listening to him or going to him for authentic information.
A true friend of journalists, Shittu was always ready to help to us perform our constitutional duties. Several years ago when maritime journalists operated as one body, Prince Shittu was more or less a patron and a father to all. No journalist who operated in the industry about twenty years ago can forget the unrivalled hospitality of Shittu.
At that period, journalists would travel to Port Harcourt for assignments knowing full well that their accommodation and feeding would not be a problem. This is irrespective of whether they travelled as individuals or as a group. So kind-hearted, Shittu would always go out of his way to make everyone comfortable, and would not attend to his own business until everyone was settled. A friend in need, Shittu has always identified with families of deceased journalists, helping to train the children that one our departed colleagues left behind.
In business, Shittu always demonstrates remarkable honesty, diligence and love for the fatherland. Unlike many other customs brokers and freight forwarders who are concerned with amassing wealth, whether by fair or foul means, Shittu stands for integrity and honest transactions; always considering the national economy. You will never get him cutting corners, making wrong declarations or engaging in falsification of documents, which the Nigeria Customs Service normally accuses customs agents and freight forwarders of doing so often. Rather, Shittu believes in honesty transactions and instructs and counsels his workers, fellow agents and association members to do the right thing at all times in order to eliminate fraud in the system and for the good of the economy.
Shittu remains a strong voice against evil in the society, especially corruption and sharp practices in the port sector and the economy in general.
An eloquent and articulate speaker, Shittu's intellectualism and deep knowledge of the industry and economy is always evident at seminars, workshops or anywhere economic policies and roadmaps are being discussed. His deep knowledge of customs operations, including tariffs and classification never fails to thrill both customs officers and maritime journalists.
Prince Shittu is a strong critic of those who place ethnicity, sectionalism and parochial interests above the general good. As a detribalized Nigerian, he has his business headquarters in Port Harcourt and always fights for the good of the eastern ports just as he fights for that of the Lagos ports. He abhors political decisions where economic decisions should be taken, and never fails to speak out when wrong things are being done.
His eloquence and strong stance on what is right has earned him the respect of all industry operators and policy makers hence he is always sought after whenever views that matter are needed.
As Gen. Colin Powell, former U.S Secretary of State once said, "Great leaders are almost always great simplifiers, who can cut through argument, debate and doubt to offer a solution everybody can understand." This is a true description of Prince Shittu.
The best of Prince Olayiwola Shittu can be seen in his sterling leadership qualities. He was a remarkable union leader during his stint in the Nigerian Ports Authority (NPA) in the 70's, and remains the leader the Association of Nigerian Licensed Clearing Agents (ANLCA) will always treasure as its best. After his two-time tenure as the National President of the association, he left a record of achievements that will take a long time to rival. He brought intellectualism, glamour and recognition to the association and left a big shoe that his successors will continue to strive to fit.
His greatest achievement for ANLCA is making the association became a proud owner of a magnificent edifice as permanent operating headquarters. Shittu was elected into the office of the President at a time the association could not pay the rent for their office, and had been thrown out with their property exposed to the elements of weather. Shittu came on board with a promise not only to get the association a functional and befitting office, but also a permanent office where it can no longer be tossed about. He achieved all these, propelled by his courageous, bold and strong fighting spirit coupled with his transparency, selflessness, intelligence and friendly attributes.
From the time Shittu joined ANLCA, he had demonstrated his leadership qualities, by doing his best to improve the status and progress of the association. As a young and fresh member of the association at the chapter levels, Shittu always made valuable and intelligent contributions at meetings. This earned him recognition of members who would always appoint or elect him into leadership positions.
Shittu's next major achievement as ANLCA President was repositioning the association, bringing recognition and respect to the association. He professionalised the business of clearing, changing the name of customs agents to customs brokers in line with global standards and practices. He was also instrumental to the establishment of the Council for the Regulation of Freight Forwarding in Nigeria (CRFFN) and in building cooperation amongst the various freight forwarding associations.
When he became the National President of ANLCA, he sought to educate and change the mind-set of the members, making them understand that they could become professional customs brokers. So under his innovative leadership, members of ANLCA began to travel to Europe, America, and Asia to learn contemporary customs brokerage processes.
Shittu was driven by the vision that these exposures will enable the agents to professionalise and replicate world-class best practices in Nigeria. Today, the association is well-respected both in the industry and the country, and no longer the bear garden it used to be.
We must celebrate a man who, wherever he found himself, always made accountability, integrity, great achievement and honesty his watchwords. It never matters to Shittu if others are enriching themselves in office or in business. He remains true to his beliefs while doing his best to discourage societal ills.
Prince Olayiwola Shittu would always remain a treasured personality, someone who has attained success in both his career as a customs broker and freight forwarder, businessman and in all the leadership positions he has found himself occupying in the industry and the society as a whole.
Indeed, Prince Shittu is someone who deserves to be celebrated because of who he is: a role model both in character and in business. He really deserves every accolade that he receives on this auspicious day.
As he becomes a Septuagenarian today, we wish him happy and wonderful birthday, while wishing him many more years of fulfilled life and greater achievements.
P.S. When the publisher asked me to write about Prince Olayiwola Shittu as he joined the club of septuagenarians today, I did not hesitate to indicate my interest to do that. I have been in the maritime industry for more than 22 years as a journalist and have interacted closely, and from a distance with many operators in the industry – both past and present. There are many of them I cannot accept to write about because I value integrity and truth, and do not know how to dress people in borrowed robes.
But Prince Olayiwola Shittu is someone who deserves to be celebrated because of who he is: a role model both in character and in business. Indeed, he deserves every accolade that anyone can place on him at this stage of his life.