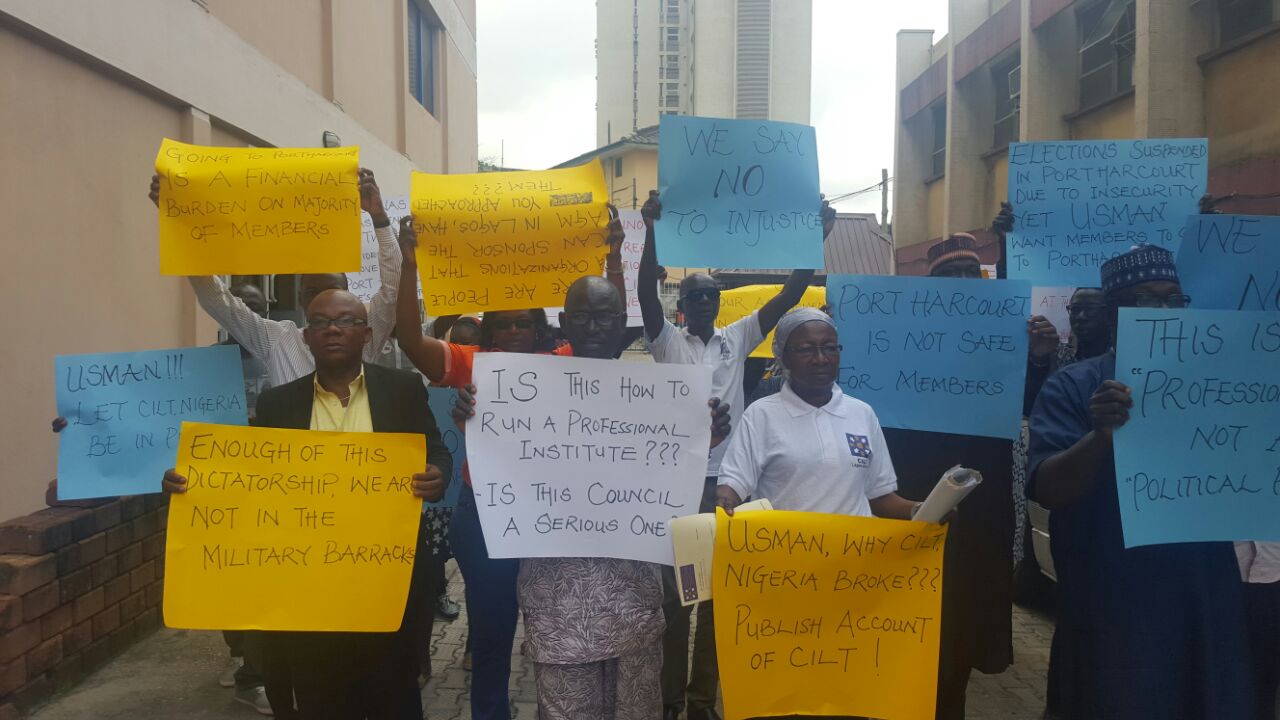 Members of the Chartered Institute of Logistics and Transport (CILT) Nigeria yesterday staged a protest over the scheduling of the institute's Annual General Meeting in Port Harcourt.
The CILT members, who stormed the Ikoyi national office of the institute, carrying various placards accused the CILT Nigeria President, Major General Tudunwada Usman of "insensitivity and dictatorship" in deciding to hold the AGM in Port Harcourt, Rivers State.
Some of the placards read: "Usman, why is CILT Nigeria broke? Publish account of CILT"; "Enough of this dictatorship, we are not in the military barracks"; "Elections suspended in Port Harcourt due to insecurity, yet Usman want members to go to Port Harcourt"; "Going to Port Harcourt is a financial burden on majority of the members" and "Usman, let the philosophy of stronger together work in Nigeria".
One of the protesters, Mrs. Fatima Diko-Kuton said the sudden change of the date and location of the institute's AGM by its leadership prompted the protest.
She said, "It is an election year which requires a more careful and well calculated decision on the location and timing, so as not to discourage attendance of members.
"The safety and security of people in Niger-Delta area, particularly Port Harcourt was not considered by the council before arriving at this dangerous decision. Because of security challenges, Rivers State election was postponed indefinitely by the Independent National Elecoral Commission (INEC), and some professional bodies that wanted to hold their programmes in Port Harcourt have moved such programmes to other areas of the country where safety is relatively guaranteed. So does General Usman want to compel us to go to Port Harcourt by all means against the wishes of members?"
"This decision of council we can say without any fear of contradiction is unnecessary, made without due consideration of its effects on members and can be termed reckless.
"The conference and AGM is a fee-paying programme and we are convinced that members in Lagos and its environs will generate enough funds to organize the conference and AGM.
"Members of CILT Nigeria Lagos Branch reject totally the movement of the national conference and AGM originally planned to hold in our branch in Lagos to Port Harcourt without any justifiable and compelling reasons. Except if the council doesn't want us to attend the conference, it can go ahead not to rescind its decision," she added.
Copyright Ships & Ports Ltd. Permission to use quotations from this article is granted subject to appropriate credit given to www.shipsandports.com.ng as the source.