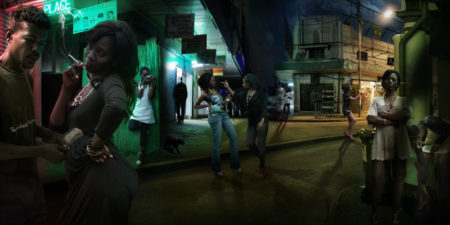 Apapa, Lagos seaport city and home to West Africa's biggest seaports, including Nigeria's premier seaport, the Lagos Port Complex, Apapa and Tin Can Island Port is losing its nightlife. In this report, SAMSON ECHENIM writes that the buzzing night of clubbing and the red streets hitherto associated with Apapa are waning.
As at 8pm when a city's nightlife is beginning to set in, Apapa is already on anti-clock wise, leaving one to wonder what has happened to the city. No thanks to the recessive economy in which the country has found itself and the bad roads leading to the ports. Driving into the city from Western Avenue, one is greeted with an already lonely road, creating an impression that things have really changed with the old Lagos town.
As it is with other port cities of the world, Apapa used to have a buzzing night life helped by freight forwarders, customs agents, dockworkers and seafarers who manage to find their way into the city having somehow sneaked out of their vessels to have a feel of the city. The city never disappointed.
But today, the prostitutes who have played a major role in providing the needed leisure and sexual entertainment to players in the import-export chain are only managing to hang around, as many of their age-long customers have either been forced out of business, or are currently in economic hibernation.
When this reporter visited Apapa on Friday night, the city left a huge difference from what it was when the same reporter stayed to have a feel of the city's night life in October 2014. Back then, the weekend peaked up on Friday night, with the various relaxation and drinking joints parading musical performances for their customers' pleasure. By 10 pm, when the musical entertainment picked up, one could barely resist the temptation of spending the night in the port city.
There are a number of such night joints on Kalakuta Street and the adjuncts of Wharf Road and Eleganza Complex. A few places habouring prostitutes could be located on Burma Road, Payne Crescent and some adjuncts streets exiting on Warehouse Road. Today, only Payne Crescent, having the largest number of clubs and brothels and Kalakuta Street, with its Domino Pizza, Kingston Jones, Stephanie's and Hot Fun Café, a computer games and gambling place, manage to retain some night life.
Callers at the drinking joints and some workers, including prostitutes whom the reporter engaged in brief chats to determine the cause of the Wharf city's low tone, blamed the economic recession and the bad port access roads, which they said was putting people away from Apapa at night.
As at 10pm, one of the night joints visited by the reporter refused to reach peak. The place was scanty and the musical corner lay lonely like an orphan. When the reporter casually inquired from a close customer why the place was still dull as at 10pm on a Friday night, the customer slammed, "Buhari," implying that the current economic situation was responsible.
But he said further when engaged, "First of all, I think the situation of the economy is the reason for the low tone of Apapa right now, especially at night. For example, the level of imports coming into the country has gone down seriously and this means that lesser number of dockworkers, seafarers and clearing agents are coming around. And those who have businesses to do are not making money to readily spend on leisure."
But a staff of one of the joints on Kalakuta Street, who simply gave his name as Jude said, "The problem is the road. Now, Tin Can is no longer motorable and you know that our place is on the side of Tin Can. Most of our customers were people who have jobs at Tin Can Port and a lot of people used to come into Apapa through Tin Can, but now, they have been cut off because the road is completely out of service."
Back at the brothels, the women of easy virtue are adopting unusual measures to remain in business and make ends meet. The prostitutes have become the proverbial Eneke the bird who said 'since men have learnt to shoot without missing, she has learnt to fly without perching.'
At one of the brothels on Payne Crescent, a young slim fair complexioned lady in her early 20s, who gave her name simply as Precious was handy to receive the reporter to her room, but the reporter broke the flow with a couple of questions, which made the prostitute somehow uncomfortable as she struggled to provide answers to the questions after the reporter got her settled on a table with him.
Over here, several young ladies in their early 20s of various colour shades available on an African soil loiter around in the club/bar, obviously seeking the attention of the few men around. The reporter's dress sense may have made him stand out as an unusual attender, making more ladies, pretending to be Precious' friends to come around the table where the reporter sat with Precious, having offered her a small bottle of Guinness Stout and taken a bottle of Star lager beer for himself.
Precious' very fair skin made her stood out among the girls and also formed a basis for initial discussion with the reporter.
"With your colour and beauty, one would mistakenly take you for an European. May be you should think about taking your games up to Europe; you could naturally fit in," the reporter retorted.
Precious, with a smile said, "Thank you. But do you know if I have been there before?"
Lost for words, the reporter looked into her eyes briefly and asked, "Have you been to Europe before?"
"Yes. In fact, I returned a couple of months ago and I came to this place just last month. I actually don't want some other people's help to go back to Europe again; I want to get there by my personal efforts," she said.
Precious is a reserved person, not wanting to say more about herself, especially regarding circumstances that caused her repatriation from Italy, as she later revealed the country she lived for two years, engaging in prostitution, before Italian authorities sent her back to Nigeria.
But further uneasy discussion amidst the loud dancehall music from a pair of heavily bass old speakers in the narrowly structured club appended up on the brothel building looking halfway like a penthouse, Precious revealed she is from Edo State and a university drop out.
She said she abandoned her programme as a 200 level student of Theatre Arts, University of Benin in 2013 to travel to Italy on the advice of friend and some family members. Having seen life in Italy for just two years, Precious, who gave her local name as Osareme remained bent to return to Europe. She would this time go by air and land in Austria, as Italian authorities would have her no more.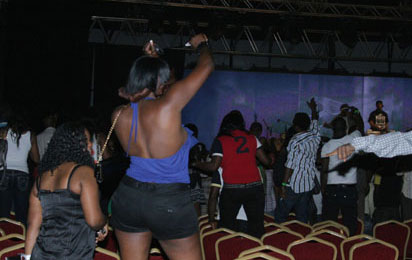 She however lamented that her plans appear more to be hitting the brick, as "business has been very bad."
An apparently jealous lady, Precious was not pleased to watch this reporter jot some points while with her in his phone. At a time when she felt the reporter was more like looking at another lady, she asked him: "should I call her for you?"
Her friends, perhaps wondering what she kept discussing with the reporter instead of taking him to the room have formed a ring nearby, gossiping and often looking at the reporter, as one of them jostled down to get a key from Precious.
She later said they both share one corner of a room, where they alternate use depending on who is having a male guest.
"Well, this is what we are doing now to be able to raise our rents to management of the brothel every week. We have to share a corner of a room. When I first came, I was using a corner of a room alone, but the management suggested that we become two so that we can pay, because they complained that the girls are not paying their weekly rents," she said.
The arrangement leaves four prostitutes using a room, as a room is divided into two sides, each side forming a corner as seen in some public university hostels.
She confessed she didn't like the accommodation arrangement and said she might have to leave the brothel for another one in Lekki soon.
At a neighbouring brothel, but popularly referred to as a club on one of the adjoining streets to the Eleganza Complex, the management is making desperate efforts to attract male guests, as inside the club is laced with television sets showing adult films. This one is quite old and habours older ladies. Some of the ladies here, unlike the one on Payne Crescent, are big and around their late 20s and early 30s. The ladies here come cheaper, but as at 12 midnight, the place is better described as deserted.
Chioma received the reporter with a broad smile. A rather short and small bodied but well figured lady in her late 20s, Chioma is friendly and was willing to give her body for whatever amount the reporter could offer, if "up to N1,000."
Chioma also complained of "bad market," saying she had not got even one male guest since the beginning of the day.
Perhaps, the only person who made a positive remark about his situation is Sule, the suya man on Payne Crescent who found a stand between the two clubs facing each other on that street. He said Buhari's administration has brought him favour, as he got current suya stand during the time "Baba's government," as he wrapped his Indian hemp readying for smoking.
"Ah, Baba's time favours me because it is during his time that I got this place where I am selling suya now. I don't sell plenty, but I am selling; people are buying bits by bits," he said.
The load of young men of northern extract, who were known for selling aphrodisiac drugs appeared to have gone out of business. Perhaps, regulators have worked them out of business as no one was seen hawking the sex drugs.
On the entrance to the middle of Payne Crescent where the clubs are situated, were a couple of women selling gins packed in small sachets and small bottles. This spot was livened up by other women selling Indomie as quick late dinner, or early breakfast for guests who patronize the neighbouring clubs and for sight seers like this reporter.
Somehow, this Indomie spot manages to usher one into what is now left of Apapa'snight life.
Copyright Ships & Ports Ltd. Permission to use quotations from this article is granted subject to appropriate credit given to www.shipsandports.com.ng as the source.