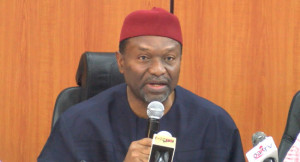 The Federal Government on Monday said that it had started seeing positive signs that the economy which slipped into recession in the third quarter of last year has started witnessing recovery.
The Minister for Budget and National Planning, Udo Udoma, stated this whole speaking during a meeting with the Executive Secretary, Nigerian Investment Promotion Council, Yewande Sadiku.
The minister gave some of the signs that the economy was on its way out of recession as marginal reduction in inflation rate which is the first in 15 months, relative stability in the foreign exchange market, steady increase in the foreign exchange reserves and renewed investor confidence which resulted into the over subscription of the country's $1bn Eurobond by eight times.
He said despite the positive signs, the government was still optimistic that the Economic Recovery and Growth Plan which was unveiled three weeks ago would quicken the recovery process.
He said that the government would need the massive cooperation of all stakeholders in the economy for the successful implementation of the recovery and growth plan.
Udoma expressed optimism that the synergy between the private and public would provide the needed impetus for the recovery drive.
A statement from the ministry explained that the minister called on the NIPC to step up efforts in ensuring that more investments are attracted into infrastructure from the private sector.
It read in part, "Senator Udoma said the recovery task calls for maximum cooperation and understanding between Ministries, Departments and Agencies on one hand, and sustained synergy between the public and private sectors.
"Senator Udoma noted that the strong, resourceful, energetic and hardworking qualities of the NIPC leadership will provide the necessary impetus to the recovery drive.
"One of the key elements of the recovery plan is hinged on the speedy development of critical infrastructure such as roads, rail and energy, and the minister charged the NIPC to urgently mobilize the private sector to invest heavily in these areas."
He noted that with a population of over 170 million people and vast natural resources, the Nigerian economy is a gold mine with promising returns on investment in all sectors of the country's economy.