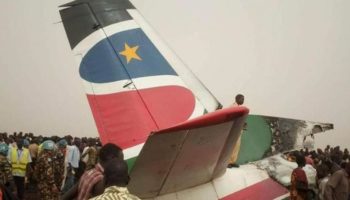 A passenger jet carrying 45 people crash-landed in South Sudan's north-western city of Wau on Monday, leaving at least 14 people injured, government and airport officials said.
"The weather is not good. Visibility was not good up to now and (the plane) was landing from the east to west then it just crashed (off) the runway. The pilot I think was not seeing the runway well," said Paul Charles, an engineer at Wau airport.
Images circulating on social media showed thick black smoke billowing from the aircraft, which was completely burned out except for the tail, clearly bearing the insignia of local carrier South Supreme Airlines.
"Right now we have the ambulance which has just come out from the airport and we have received 14 patients being rushed to hospital in stable condition," said State Information Minister Bona Gaudensio.
It was not clear if the rest of the passengers were alive or dead.
"There were 40 passengers and five crew (on board) that is all. I don't have any information," said Gabriel Ngang, the manager of South Supreme Airlines.
He said the plane had taken off from the capital Juba.